Morning Market Update - 12 October 2021
By Phillip Smith - October 12, 2021
Pre-Open Data

Key Data for the Week
Tuesday – AUS – NAB Business Conditions & Confidence
Tuesday – UK – ILO Unemployment Rate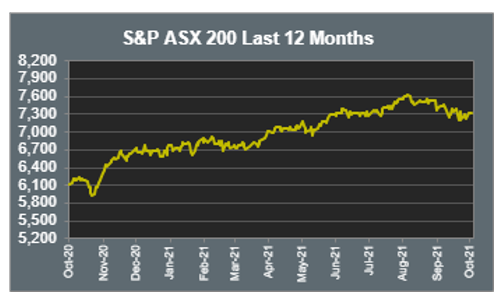 Australian Market
The Australian sharemarket closed 0.3% lower yesterday, as a weak lead from the US overshadowed the optimism regarding the re-opening of NSW. Shopping centres, cafés and pubs resumed trade, with more states set to soon follow suit.
The Information Technology sector was the worst performer, as it closed down 2.7%. Buy-now-pay-later providers lost ground; Afterpay fell 4.2% and Openpay conceded 3.1%, while Zip shed 1.6%. Accounting software company, Xero, dropped 4.0%, while artificial intelligence provider, Appen, closed the session 1.6% lower.
Gains in the Materials sector helped to limit losses. Fortescue Metals added 5.3% after the company announced it will start building a green energy manufacturing centre in February. A jump in the price of iron ore also aided the sector; Rio Tinto lifted 1.9% and BHP rose 0.9%.
A 22.9% fall in Star Entertainment Group was one of the more notable declines on the market in yesterday's trading session. There were reports claiming the company allowed money laundering and fraud, however, they have since denied the reports.
The Australian futures market points to a 0.37% decline today.
Overseas Markets
European sharemarkets lifted on Monday, as a rally in the Materials sector outweighed nervousness surrounding the third-quarter reporting season. London-listed BHP and Glencore both added 3.2%, while Rio Tinto rose 3.6%. By the close of trade, the STOXX Europe 600 lifted 0.6% and the UK's FTSE 100 added 0.7%, while the German DAX shed 0.1%.
US sharemarkets closed lower overnight as investors await the upcoming reporting season. The Financial sector lost ground; JPMorgan conceded 2.1%, with the company expected to report earnings on Wednesday. A 1.3% drop in Amazon weakened the Information Technology sector, while payment service providers Visa and MasterCard both closed the session 2.2% lower.
By the close of trade, the NASDAQ lost 0.6%, while S&P 500 and the Dow Jones both closed the session down 0.7%.
CNIS Perspective
We have now entered third-quarter 2021 earnings season, where the majority of S&P 500 companies will report results over the next few weeks.
Expectations are again high, where on aggregate companies are expected to see earnings growth of over 25% for the third straight quarter. However, growth limitations are becoming evident, but not because consumer demand is sluggish.
While only early days into this reporting season, with just 21 companies having announced earnings, we are beginning to see a trend emerge, where commentary from press releases is being highlighted by statements of supply chain disruptions, causing the highest element of angst among businesses over the period.
Consumer demand is very much back to full throttle in the US, and businesses want to take advantage of this, but product lines are struggling to keep up with this demand. Expect this to be a common theme for many frustrated businesses over the entire reporting season, which hopefully won't hold back another stellar quarter of corporate profits.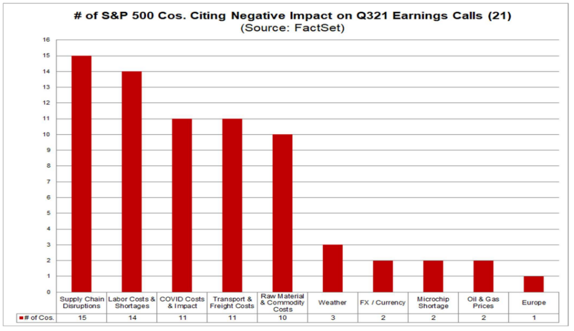 Should you wish to discuss this or any other investment related matter, please contact your Investment Services Team on (02) 4928 8500.
---
Disclaimer
The material contained in this publication is the nature of the general comment only, and neither purports, nor is intended to be advice on any particular matter. Persons should not act nor rely upon any information contained in or implied by this publication without seeking appropriate professional advice which relates specifically to his/her particular circumstances. Cutcher & Neale Investment Services Pty Limited expressly disclaim all and any liability to any person, whether a client of Cutcher & Neale Investment Services Pty Limited or not, who acts or fails to act as a consequence of reliance upon the whole or any part of this publication.
Cutcher & Neale Investment Services Pty Limited ABN 38 107 536 783 is a Corporate Authorised Representative of Cutcher & Neale Financial Services Pty Ltd ABN 22 160 682 879 AFSL 433814.