Morning Market Update - 10 June 2021
By Phillip Smith - June 10, 2021
Pre-Open Data

Key Data for the Week

Wednesday – CHINA – Producer Price Index rose 9.0% year-on-year in May. This is the largest year-on-year increase since September 2008.
Wednesday – CHINA – Consumer Price Index fell 0.2% in May, however, is up 1.3% year-on-year.
Thursday – AUS – Consumer Inflation Expectations
Thursday – EUR – ECB Monetary Policy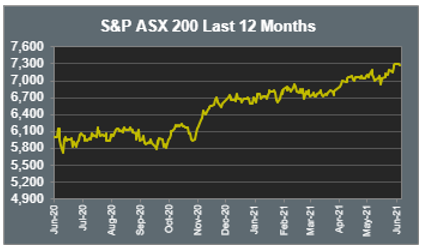 Australian Market
The Australian sharemarket eased 0.3% yesterday, with most sectors weaker. Consumer Staples was the laggard, down 1.4%, while REITs fell 1.0% and Information Technology slipped 0.8%.

News that Melbourne's COVID-19 lockdowns will ease from midnight tonight boosted travel stocks. Flight Centre gained 1.2% and Webjet added 1.6%, while Corporate Travel Management lifted 2.4%.

Losses among the four major banks weighed on the Financials sector, which closed down 0.5%. NAB was the weakest performer, down 0.8%, followed by Westpac, which eased 0.7%, while Commonwealth Bank and ANZ lost 0.4% and 0.1% respectively. Fund managers were also weaker; Australian Ethical Investment fell 3.2% and Magellan Financial Group gave up 2.5%.

Mining heavyweights lifted the Materials sector. Fortescue Metals rose 1.0% and BHP added 0.6%, while Rio Tinto gained 0.5%. Gold miners were weaker; Newcrest Mining lost 0.7% and Northern Star gave up 1.4%, while Evolution Mining closed down 2.8%.

The Australian futures market points to a 0.04% fall today.
Overseas Markets
European sharemarkets were mixed overnight. Travel and leisure stocks enjoyed gains following an announcement from the US Centre for Disease Control and Prevention that they will be easing travel recommendations. Air France KLM gained 3.3% and Lufthansa rose 2.9%, while British Airways owner International Airlines Group lifted 2.7%. UK miners weakened; Rio Tinto fell 2.0% and BHP lost 2.1%, while Anglo American gave up 2.5%. By the close of trade, the German DAX fell 0.4% and the UK FTSE 100 eased 0.2%, while the STOXX Europe 600 added 0.1%.

US sharemarkets were weaker on Wednesday. Health Care was the strongest performing sector; pharmaceutical company Bristol-Myers Squibb lifted 2.7% and Pfizer added 2.5%, while Moderna gained 2.1% and Johnson & Johnson rose 1.4%. The Information Technology sector also enjoyed gains; Microsoft closed up 0.4%, while Alphabet and Apple both rose 0.3%. By the close of trade, the Dow Jones slipped 0.4% and the S&P 500 eased 0.2%, while the NASDAQ fell 0.1%.
CNIS Perspective
There is nothing like a COVID inspired lockdown to take the momentum out of consumer confidence.

Melbourne's two-week lockdown has reminded us of the impact of further virus outbreaks and subsequent lockdowns, with a 7.5% decline in consumer sentiment in June in Victoria.

Other states also recorded declines in consumer sentiment, with South Australia down 10.9% and Western Australia down 9.0%, which might reflect their confidence, or lack thereof, in their ability to manage future outbreaks.

In contrast, sentiment only declined 1.1% in NSW, underscoring the faith the state has in its ability to manage the virus.

Looking through the Melbourne lockdown, other factors are likely to remain supportive of consumer confidence. Dwelling prices are booming, the job market is recovering and government and RBA policies are still very much supportive, which should ultimately flow through to consumer sentiment.

Domestic economic forecasting is therefore very difficult, with snap lockdowns and interstate border closure remaining a significant risk, until more progress is made on the vaccine rollout.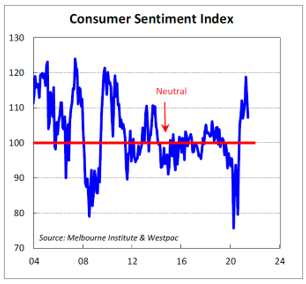 Should you wish to discuss this or any other investment related matter, please contact your Investment Services Team on (02) 4928 8500.
---
Disclaimer
The material contained in this publication is the nature of the general comment only, and neither purports, nor is intended to be advice on any particular matter. Persons should not act nor rely upon any information contained in or implied by this publication without seeking appropriate professional advice which relates specifically to his/her particular circumstances. Cutcher & Neale Investment Services Pty Limited expressly disclaim all and any liability to any person, whether a client of Cutcher & Neale Investment Services Pty Limited or not, who acts or fails to act as a consequence of reliance upon the whole or any part of this publication.
Cutcher & Neale Investment Services Pty Limited ABN 38 107 536 783 is a Corporate Authorised Representative of Cutcher & Neale Financial Services Pty Ltd ABN 22 160 682 879 AFSL 433814.