Morning Market Update - 13 July 2021
By Phillip Smith - July 13, 2021
Pre-Open Data

Key Data for the Week

Tuesday – AUS – NAB Business Conditions and Confidence
Tuesday – CHINA – Trade Balance
Tuesday – US – Consumer Price Index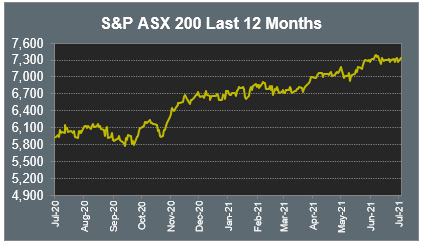 Australian Market
The Australian sharemarket added 0.8% yesterday, led by gains in the Materials sector. This increase was in response to the People's Bank of China decision to allow banks to lend more money and drive economic activity. This was seen as a positive for the Materials sector, as China had previously been attempting to drive commodity prices lower. As a result, Fortescue Metals lifted 3.3%, BHP added 3.2% and Rio Tinto climbed 1.8%.

Goldminers also benefitted from the news; Northern Star Resources added 1.5%, while Evolution Mining and Newcrest Mining lifted 1.9% and 0.5% respectively.

The Financials sector also strengthened, as all big four banks rose. Commonwealth Bank and Westpac both added 0.6%, while NAB lifted 0.5% and ANZ closed the session 0.4% higher. Fund managers were mixed, as Australian Ethical Investment and Challenger dropped 0.3% and 0.9% respectively, while Magellan Financial Group added 1.1%.

Travel stocks ended higher despite an additional 112 COVID cases reported in NSW yesterday. Webjet and Flight Centre lifted 0.4% and 0.5% respectively, while Qantas rose 0.2%.

The Australian futures point to a 0.28% rise today, driven by stronger overseas markets.

Overseas Markets
European sharemarkets lifted overnight as the pan-European STOXX 600 added 0.7%. The Real Estate sector was among the top performers, led by gains in Vonovia, which added 1.6%. HelloFresh continued its run of strength to close up 2.4%, while renewable energy companies, Vestas Wind Systems and Veolia Environnement lifted 3.0% and 1.4% respectively. Travel stocks weakened, as the COVID Delta variant continues to spread across Europe.

US sharemarkets also closed higher on Monday as investors await the start of earnings season tonight, with the major banks set to start proceedings. As a result, Goldman Sachs lifted 2.4%, J.P. Morgan rose 1.4% and Wells Fargo added 0.6%. Tesla strengthened 4.4% following statements made by CEO Elon Musk in court yesterday, insisting that he does not control Tesla as he defended an acquisition that was made in 2016.

By the close of the session, the Dow Jones and the S&P 500 both added 0.4%, while the NASDAQ rose 0.2%.
CNIS Perspective
The People's Bank of China surprisingly announced over the weekend it would cut the Reserve Requirement Ratio by 50 basis points, easing lending rules for all Chinese banks, effective from this week.

A lowering of the reserve limit from 12.5% to 12%, increases the supply of money that banks can lend, with the change in policy expected to release around 1 trillion Yuan (or US$154 billion) of liquidity into the economy.

China's move to cut the amount of funds banks need to hold in reserve has boosted market sentiment, and is welcomed news for certain sectors of the Chinese economy including manufacturing and IT.

However, while stimulatory in the short term for markets, the rate cut raises a few eyebrows.

It is a signal to the rest of the world that China's economic growth is softening, and corporate profitability, financial stability, and economic growth may not be as good as the market expects.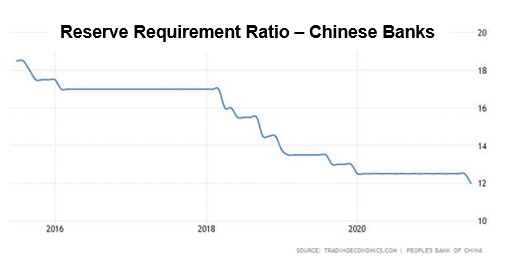 Should you wish to discuss this or any other investment related matter, please contact your Investment Services Team on (02) 4928 8500.
---
Disclaimer
The material contained in this publication is the nature of the general comment only, and neither purports, nor is intended to be advice on any particular matter. Persons should not act nor rely upon any information contained in or implied by this publication without seeking appropriate professional advice which relates specifically to his/her particular circumstances. Cutcher & Neale Investment Services Pty Limited expressly disclaim all and any liability to any person, whether a client of Cutcher & Neale Investment Services Pty Limited or not, who acts or fails to act as a consequence of reliance upon the whole or any part of this publication.
Cutcher & Neale Investment Services Pty Limited ABN 38 107 536 783 is a Corporate Authorised Representative of Cutcher & Neale Financial Services Pty Ltd ABN 22 160 682 879 AFSL 433814.