Morning Market Update - 18 August 2021
By Phillip Smith - August 18, 2021
Pre-Open Data

Key Data for the Week
Tuesday – UK – ILO Unemployment Rate fell to 4.7% in June, from 4.8% in May.
Tuesday – EUR – Gross Domestic Product grew by 2.0% in the second quarter.
Tuesday – US – Retail Sales fell 1.1% in July, missing expectations of a 0.3% drop.
Wednesday – EUR – Consumer Price Index
Wednesday – AUS – Wage Price Index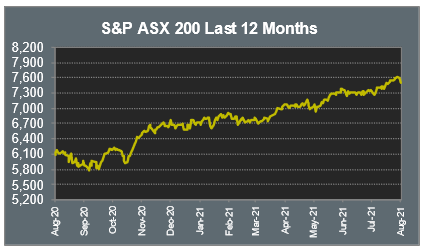 Australian Market
The Australian sharemarket had its biggest loss since June yesterday, down 0.9%, as a slowing Chinese economy and continued COVID-19 lockdowns weighed on the market. Economically sensitive sectors such as Materials and Financials were the hardest hit.

The Financials sector lost 0.7%, weakened by Commonwealth Bank, which fell 3.5% after the company traded ex-dividend. Of the other banks, Westpac dropped 1.3%, while ANZ and NAB slipped 1.1% and 1.0% respectively. Fund managers provided mixed performances; Australian Ethical Investment gained 4.6%, while Magellan Financial Group slumped 10.2% after releasing their earnings report.

BHP confirmed the sale of its oil and gas business to Woodside Petroleum and announced a dividend of US$2 per share. The company closed 1.4% lower. Fortescue Metals shed 0.3% and Rio Tinto conceded 1.8% to further weaken the Materials sector by 1.3%.

The Information Technology sector also lost ground, down 1.0%. Artificial Intelligence provider, Appen, slipped 3.0%, while accounting software provider, Xero, lost 1.5%.

The Australian futures point to a 0.46% fall today, driven by weaker overseas markets.
Overseas Markets
European sharemarkets were mixed overnight as positive Gross Domestic Product figures outweighed continuing COVID-19 Delta concerns. These concerns led the Travel and Leisure sector 1.0% lower, as Lufthansa slipped 1.3%, Ryanair lost 1.4% and easyJet fell 1.9%. The Financials sector retreated; ING Groep lost 0.9% and Barclays PLC shed 0.4%.

By the close of trade, the broad based STOXX Europe 600 added 0.1% and the German DAX lost less than 0.1%, while the UK FTSE 100 closed up 0.4%.

US sharemarkets lost ground on Tuesday following weaker-than-expected retail sales figures. As a result, the Consumer Discretionary sector had the largest fall, down 2.3%. Home Depot conceded 4.3% after sales fell short of estimates.

By the close of trade, the Dow Jones lost 0.8% and the NASDAQ fell 0.9%, while the S&P 500 conceded 0.7%.
CNIS Perspective
The RBA minutes of their meeting held on 3 August were released yesterday, providing a significant surprise to the market.

Despite the deterioration in the near-term outlook on the back of the lengthy lockdown in NSW, the RBA has opted to stick to its plan of tapering bond purchases in September, and in effect, start the process of reducing economic stimulus.

Effectively, the RBA is looking through the near-term disruption. Their forecasts are suggesting the NSW lockdown will have little lasting impact on the nation's economy.

They did however add a fairly large caveat by acknowledging the "high degree of uncertainty to the outlook for the second half of 2021", suggesting their actions will be evolving in line with reality.

Of note, was the reaction of the AUD to yesterday's minutes, with the AUD dropping 1 cent on the news.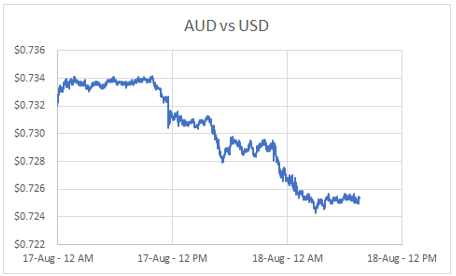 Should you wish to discuss this or any other investment related matter, please contact your Investment Services Team on (02) 4928 8500.
---
Disclaimer
The material contained in this publication is the nature of the general comment only, and neither purports, nor is intended to be advice on any particular matter. Persons should not act nor rely upon any information contained in or implied by this publication without seeking appropriate professional advice which relates specifically to his/her particular circumstances. Cutcher & Neale Investment Services Pty Limited expressly disclaim all and any liability to any person, whether a client of Cutcher & Neale Investment Services Pty Limited or not, who acts or fails to act as a consequence of reliance upon the whole or any part of this publication.
Cutcher & Neale Investment Services Pty Limited ABN 38 107 536 783 is a Corporate Authorised Representative of Cutcher & Neale Financial Services Pty Ltd ABN 22 160 682 879 AFSL 433814.