Morning Market Update - 29 July 2021
By Phillip Smith - July 29, 2021
Pre-Open Data

Key Data for the Week
Wednesday – AUS – Consumer Price Index rose 0.8% in the June quarter.
Wednesday – US – FOMC Meeting Decision left the rate unchanged at 0.25%.
Thursday – EUR – Economic Confidence
Thursday – US – Gross Domestic Product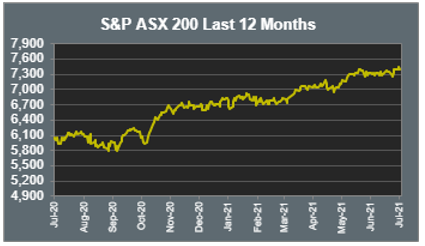 Australian Market
The Australian sharemarket fell 0.7% yesterday, as all sectors except for Property closed lower. The major sectors of Financials and Materials dropped 0.9% and 0.8% respectively.

The Information Technology sector was the worst performer on the market, as it fell 2.1%. Buy-now-pay-later companies lost ground, as Afterpay shed 3.6% and Zip slipped 2.7%. Artificial Intelligence provider, Appen, lost more ground yesterday to fall 4.4%.

The major miners led the Materials sector lower, as BHP lost 1.7% and Fortescue Metals gave up less than 0.1%. Rio Tinto closed 0.2% lower after the company reported first-half profit had more than doubled in the same period last year, due to increased iron ore prices that resulted from an increase in Chinese demand.

All four big banks closed lower yesterday, with Commonwealth Bank the worst performer, down 1.4%. Westpac and ANZ fell 0.9% and 0.6% respectively, while NAB conceded 0.3%. Fund Managers also lost ground; Australian Ethical Investment shed 1.1% and Challenger fell 0.4%.

The Australian futures point to a 0.26% rise today, driven by stronger overseas markets on Wednesday.
Overseas Markets
European sharemarkets rose overnight as positive earnings reports filled investors with confidence. Barclays lifted 2.0% as it beat first-half profit estimates and Deutsche Bank also gained after releasing a better-than-expected quarterly report. By the close of the session, the pan-European STOXX 600 added 0.7%, while the UK FTSE 100 gained 0.3%.

US sharemarkets were mixed on Wednesday after the Federal Reserve said the central bank is still a while off raising interest rates. Apple fell 1.2% after releasing its quarterly report, which forecasted slowing revenue growth. Google's parent company, Alphabet, rose 3.2% to hit an all-time high after it posted record quarterly results.

By the close of trade, the Dow Jones fell 0.4%, the S&P 500 lost less than 0.1% and the NASDAQ rallied 0.7%.
CNIS Perspective
Australia's quarterly Consumer Price Index (CPI) figures were released yesterday, with headline CPI rising 0.8% in the June quarter, which shot the annual inflation rate up from 1.1% in the March quarter to 3.8% in the June quarter, the highest annual rate in almost 13 years.

The largest contributors to the spike in inflation were higher fuel prices, health care and the unwinding of the free childcare policy last year.

However, stripping out the volatile contributors, the underlying inflation rate rose 0.5%, with the annual growth rate lifting from a record low 1.1% to 1.6%, still well below the Reserve Bank's 2-3% target range, where it has been consistently since early 2016.

These sharp rises in inflation were to be expected for the June quarter, and we are unlikely to see any imminent policy action from the Reserve Bank to cap the rise, however, what happens from here with inflation data becomes much more important.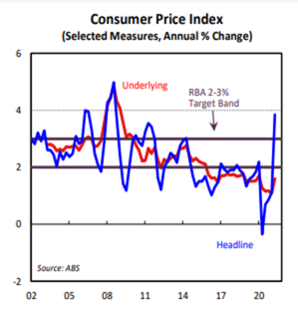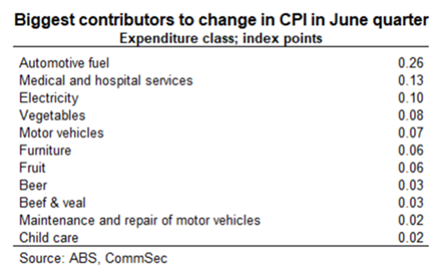 Should you wish to discuss this or any other investment related matter, please contact your Investment Services Team on (02) 4928 8500.
---
Disclaimer
The material contained in this publication is the nature of the general comment only, and neither purports, nor is intended to be advice on any particular matter. Persons should not act nor rely upon any information contained in or implied by this publication without seeking appropriate professional advice which relates specifically to his/her particular circumstances. Cutcher & Neale Investment Services Pty Limited expressly disclaim all and any liability to any person, whether a client of Cutcher & Neale Investment Services Pty Limited or not, who acts or fails to act as a consequence of reliance upon the whole or any part of this publication.
Cutcher & Neale Investment Services Pty Limited ABN 38 107 536 783 is a Corporate Authorised Representative of Cutcher & Neale Financial Services Pty Ltd ABN 22 160 682 879 AFSL 433814.