Morning Market Update - 29 June 2022
By Phillip Smith - June 29, 2022
Pre-Open Data

Key Data for the Week
Tuesday – UK – Nationwide House Prices – The House Price index lifted 1.6% in April.
Tuesday – US – Consumer Confidence fell from 103.2 in May to 98.7 in June, below the expectation of 100.
Wednesday – AUS – Retail Sales
Wednesday – US – Gross Domestic Product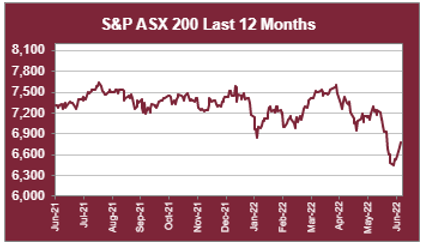 Australian Market
The Australian sharemarket advanced 0.9% on Tuesday, boosted by strong gains in the Materials and Energy sectors on the back of a rebound in commodity prices. Overall sector performance was mixed, with Consumer Discretionary the main laggard, down 1.3%.

News of easing lockdown restrictions in China lifted sentiment amongst miners. Mining heavyweights posted firm gains; BHP climbed 4.3% and Fortescue Metals added 3.8%, while Rio Tinto rose 3.0%. Gold miners also contributed to the sector's strong performance; Northern Star Resources jumped 6.1% and Newcrest Mining lifted 2.9%, however, Evolution Mining gave up 2.3% after the miner downgraded its full-year production guidance for FY22 earlier this week.

Oil prices rallied following news the G7 proposed further economic sanctions on Russia, including a price cap on oil. As a result, the Energy sector was the top performer on the local ASX, up 3.6%. Beach Energy climbed 7.0% and Woodside Energy rose 4.3%, while Santos added 2.7%.

The Financials sector finished the session lower, as all four major banks posted losses; Westpac and ANZ slid 0.9% and 0.7% respectively, while NAB fell 0.5% and Commonwealth Bank slipped 0.2%. Insurers were mixed; Suncorp gave up 1.5% and Insurance Australia Group fell 0.9%, while QBE Insurance lifted 1.2%.

The Australian futures market points to a 1.27% fall today.
Overseas Markets
European sharemarkets closed higher overnight. Energy stocks posted gains on the back of stronger oil prices; Royal Dutch Shell lifted 3.4% and BP rose 1.6%. The Banking sector also advanced; Barclays Bank rose 0.7%, Lloyds Bank gained 0.6% and HSBC lifted 0.5%, however, Deutsche Bank slipped 0.3%. By the close of trade, the STOXX Europe 600 and German DAX closed up 0.3% and 0.4% respectively, while the UK FTSE 100 added 0.9%.

US sharemarkets weakened on Tuesday, as the release of negative consumer confidence data sparked investor concerns over economic growth. The only sector to advance was Energy (2.7%), as Chevron rose 1.7%, ExxonMobil lifted 2.7% and Occidental Petroleum gained 4.8%. Technology majors contributed to wider market losses; Netflix slid 5.0% and Alphabet lost 3.5%, while Microsoft and Apple gave up 3.2% and 3.0% respectively. Consumer Discretionary (-4.0%) , which was the worst performing sector, was dragged lower by Amazon, as it shed 5.1%.

By the close of trade, the Dow Jones fell 1.6% and the S&P 500 lost 2.0%, while the NASDAQ gave up 3.0%.
CNIS Perspective
The US Consumer Confidence Index fell to a reading of 98.7 in June, down from 103.2 in May, as consumers anticipate the economy will continue to slow down in the second half of the year, due to persistently high levels of inflation.

Further, a measure of consumer expectations, which reflects consumers' six-month outlook on wages growth, the labour market and overall business conditions, dropped to the lowest in nearly a decade as Americans grew more downbeat about the outlook for the economy.

The widening gap between consumers' present situation and their expectations of the future raises the risk of recession, defined as two negative quarters of GDP growth.

With the first quarter GDP result -1.5%, some economists are suggesting the US economy is already in recession.

GDP data for the second quarter is due out tonight, which will confirm if this is the case or not.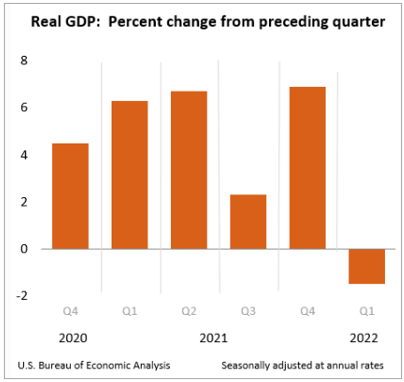 Should you wish to discuss this or any other investment related matter, please contact your Wealth Management Team on (02) 4928 8500.
---
Disclaimer
The material contained in this publication is the nature of the general comment only, and neither purports, nor is intended to be advice on any particular matter. Persons should not act nor rely upon any information contained in or implied by this publication without seeking appropriate professional advice which relates specifically to his/her particular circumstances. Cutcher & Neale Investment Services Pty Limited expressly disclaim all and any liability to any person, whether a client of Cutcher & Neale Investment Services Pty Limited or not, who acts or fails to act as a consequence of reliance upon the whole or any part of this publication.
Cutcher & Neale Investment Services Pty Limited ABN 38 107 536 783 is a Corporate Authorised Representative of Cutcher & Neale Financial Services Pty Ltd ABN 22 160 682 879 AFSL 433814.