Morning Market Update - 05 March 2021
By Phillip Smith - March 05, 2021
Pre-Open Data

Key Data for the Week

Thursday – AUS – Retail Sales rose 0.5% in January, however, results were weaker than expected. Retail sales are up 10.6% on an annual basis.
Thursday – EUR – Retail Sales fell 5.9% for January. On an annual basis, sales were down 6.4% due to the continued implications from lockdowns.
Friday – US – Unemployment Rate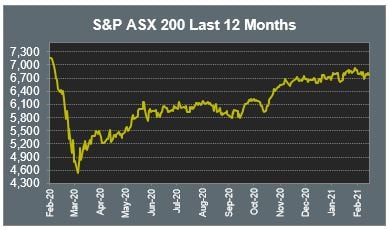 Australian Market
The Australian sharemarket fell 0.8% yesterday, with the Health Care sector the major drag. CSL slipped 4.2% after the company traded ex-dividend, while Cochlear lost 3.4% and Ramsay Health Care fell 3.5%.

The Materials sector was dragged lower by mining heavyweights; BHP and Rio Tinto slipped 3.1% and 6.2% after they both went ex-dividend, while Fortescue Metals lost 2.6%.

Consumer Staples again underperformed; Woolworths traded ex-dividend and fell 2.6%, while Wesfarmers lost 1.7% and Coles dropped 1.2%.

The Financials sector outperformed. ANZ and NAB led the gains up 3.0% and 2.4% respectively, while Westpac rose 1.3% and Commonwealth Bank added 1.1%.

Cleanaway also outperformed, up 4.0%, after the company was briefly placed in a trading halt amid reports it is closing in on a deal to buy the Australian division of France's Suez business, that could be worth upwards of $2 billion.

The Australian futures market points to a 0.30% fall today, driven by weaker overseas markets overnight.
Overseas Markets
European sharemarkets closed lower on Thursday, with the broad based STOXX Europe 600 down 0.4%. Airbus closed down 0.2%, despite announcing it would be able to avoid forced redundancies in Germany, France and Britain thanks to government aid.

US sharemarkets also fell overnight, as a renewed rise in US bond yields and expectations of a jump in inflation hit investors risk appetite. The Information Technology, Materials and Consumer Discretionary sectors were the major laggards, while Energy outperformed due to a spike in oil prices. PayPal, Shopify and Spotify were amongst the weakest performers, all down between 5.1% and 6.3%, while Alphabet bucked the trend to rise 1.1%.

By the close of trade, the Dow Jones fell 1.2%, the S&P 500 lost 1.5% and the NASDAQ slumped 2.7%.
CNIS Perspective
Despite Australian retail sales data for January coming in slightly weaker than anticipated (which was largely reflective of partial lockdowns in NSW and QLD), retail sales were up 10.6% in the 12 months to January, compared to the long run average pace of 3.8%.

Overall momentum in retail sales remains strong, as households continue dipping into the large savings buffer they accumulated during the peak of the pandemic. The household saving ratio declined to 12.0% in the December quarter, from 18.7% in the previous quarter and down from the peak of 22%.

What remains clear is that Australians have a strong appetite to spend, as shops and restaurants reopen, and interstate travel becomes possible with the lifting of border restrictions.

Further, retail sales continue to be supported by low interest rates, a still relatively high household savings ratio, improving labour market conditions and strong consumer confidence.
Should you wish to discuss this or any other investment related matter, please contact your Investment Services Team on (02) 4928 8500.
---
Disclaimer
The material contained in this publication is the nature of the general comment only, and neither purports, nor is intended to be advice on any particular matter. Persons should not act nor rely upon any information contained in or implied by this publication without seeking appropriate professional advice which relates specifically to his/her particular circumstances. Cutcher & Neale Investment Services Pty Limited expressly disclaim all and any liability to any person, whether a client of Cutcher & Neale Investment Services Pty Limited or not, who acts or fails to act as a consequence of reliance upon the whole or any part of this publication.
Cutcher & Neale Investment Services Pty Limited ABN 38 107 536 783 is a Corporate Authorised Representative of Cutcher & Neale Financial Services Pty Ltd ABN 22 160 682 879 AFSL 433814.