Morning Market Update - 7 April 2021
By Phillip Smith - April 07, 2021
Pre-Open Data

Key Data for the Week

Tuesday – AUS – RBA Interest Rate Decision – The RBA left the Cash Rate unchanged at 0.1%.
Tuesday – EUR – Unemployment Rate remained unchanged at 8.3% in February.
Wednesday – US – Goods and Services Trade Balance


Australian Market
The Australian sharemarket posted its third consecutive day of gains on Tuesday to finish up 0.8%. All sectors, except Energy and Utilities, closed stronger, with the Information Technology the strongest performer, up 5.1%.

Travel stocks advanced following the announcement of the Trans-Tasman travel bubble between Australia and New Zealand. Qantas gained 3.1% and Sydney Airport added 2.8%, while Regional Express Holdings and Auckland Airport lifted 2.6% and 1.1% respectively. Travel agencies also enjoyed gains; Webjet rallied 4.7% and Flight Centre climbed 4.4%, while Helloworld Travel rose 0.9%.

The Industrials sector closed up 2.3%, boosted by gains from Cleanaway Waste Management. The waste management company rallied 15.9% after it confirmed it had entered into a conditional agreement to acquire recycling company Suez R&R Australia for $2.52 billion.

The Financials sector gained 0.3%, as all major banks, except Commonwealth Bank, closed higher. Westpac led the gains, up 0.7%, NAB added 0.5% and ANZ lifted 0.4%, while Commonwealth Bank slipped 0.2%. Asset managers posted strong gains; Magellan Financial Group climbed 4.8%, while Australian Ethical Investment closed up 3.4%.

The Australian futures market points to a 0.04% rise today.
Overseas Markets
European sharemarkets advanced on Tuesday, as the broad based STOXX Europe 600 gained 0.6% to close at a record high. BP added 3.2% after the company stated it expects to reach its US$35 billion net debt target in the first quarter of 2021, while Royal Dutch Shell gained 1.5%. Travel stocks also lifted; Lufthansa added 2.2% and International Airlines Group rose 1.5%, while Ryanair and easyJet closed up 0.5% and 0.3% respectively.

US sharemarkets eased overnight. The Information Technology sector was the weakest performer; NVIDIA and Facebook both lost 0.9%, while Microsoft fell 0.5%. However, Spotify and Fortinet bucked the trend to close up 3.3% and 1.8% respectively. The Financials sector also saw losses; Citigroup fell 0.2% and Bank of America slipped 0.3%, while JP Morgan Chase lost 0.7%. Financial services were mixed; PagSeguro Digital added 1.4%, PayPal lifted 0.9% and MasterCard rose 0.3%, while Visa slipped 0.2%.

By the close of trade, the Dow Jones slipped 0.3%, while the NASDAQ and S&P 500 both fell 0.1%.

CNIS Perspective
Recent release of job advertisements data from ANZ shows businesses around the country are keen to take on more workers, in a sign that the Australian economy is exceeding recovery expectations.

The data shows job ads rose 7.4% in March, adding to an 8.8% increase from the previous month, a result that marks ten straight months of job ads gains, with employment recovering 99% of the jobs lost in last year's lockdown.

Job ads are now at their highest level since November 2008 and point to a further sharp decline in the unemployment rate this year, despite the removal of government support programs.

Nevertheless, it will take some time to reduce spare capacity in the labour market to be tight enough to generate wage increases required to achieve the RBA's inflation target. However, if these positive economic signs continue, it could come much sooner than the RBA has predicted.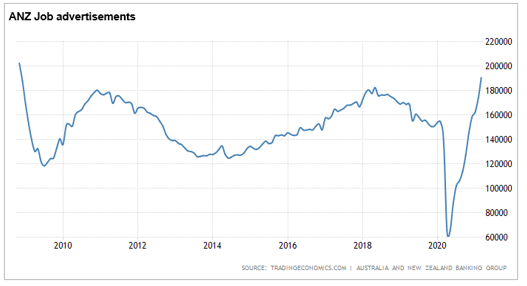 Should you wish to discuss this or any other investment related matter, please contact your Investment Services Team on (02) 4928 8500.
---
Disclaimer
The material contained in this publication is the nature of the general comment only, and neither purports, nor is intended to be advice on any particular matter. Persons should not act nor rely upon any information contained in or implied by this publication without seeking appropriate professional advice which relates specifically to his/her particular circumstances. Cutcher & Neale Investment Services Pty Limited expressly disclaim all and any liability to any person, whether a client of Cutcher & Neale Investment Services Pty Limited or not, who acts or fails to act as a consequence of reliance upon the whole or any part of this publication.
Cutcher & Neale Investment Services Pty Limited ABN 38 107 536 783 is a Corporate Authorised Representative of Cutcher & Neale Financial Services Pty Ltd ABN 22 160 682 879 AFSL 433814.