Morning Market Update - 8 June 2021
By Phillip Smith - June 08, 2021
Pre-Open Data

Key Data for the Week

Monday – CHINA – Trade Balance was US$45.5 billion in May, below expectations of US$50.5 billion.
Tuesday – AUS – NAB Business Conditions and Confidence
Tuesday – US – Trade balance
Tuesday – EUR – Gross Domestic Product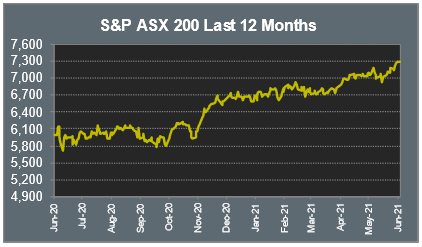 Australian Market
The Australian sharemarket lost 0.2% on Monday, weakened by the Financials sector which lost more than one percent; Commonwealth Bank fell 0.6%, Westpac lost 0.9% and ANZ dropped 1.3%. NAB was the worst performer of the big four, down 3.2%, as the Australian Transaction Reports and Analysis Centre worried investors about possible changes to how the company operates but ruled out the possibility of any fines.

The Materials sector was mixed as commodities continued their recent strength. Among the major miners, BHP and Rio Tinto added 0.2% and 0.6% respectively, while Fortescue Metals shed 1.4%. Goldminers increased; Northern Star lifted 0.2%, while Evolution Mining gained 0.4% as the price of the precious metal continues to rise.

Energy shares were also mixed as Woodside Petroleum and Santos both shed 0.3%, while Oil Search closed the session flat.

A decision to reject a takeover bid from US software group Autodesk led Altium, a computer software developer, 39.0% higher in the day's trade, while Artificial Intelligence provider, Appen, added 6.1%. This aided the Information Technology sector to produce the best performance on the market yesterday, up 2.8% following the recent rally in the US.

The Australian futures market points to a 0.07% rise today.
Overseas Markets
European sharemarkets continued their recent rally to hit record highs during the day's trade. Automakers contributed to gains and added 0.9%, as Bayerische Motoren Werke (BMW) lifted 1.6%. The Materials sector was the worst performer, down 1.6%, with concerns regarding Chinese exports driving the price of copper lower. By the end of trade, the pan-European STOXX 600 index lifted 0.2%.

US sharemarkets closed slightly lower yesterday as investors are waiting on inflation data that is set to be released later in the week. The Information Technology sector provided a mixed performance, as Spotify and Microsoft added 2.8% and 1.2% respectively, while PayPal conceded 1.0%. Shares in Biotechnology company, Biogen, soared 38.3% after they received FDA approval for their Alzheimer's drug.

By the close of the session, the Dow Jones fell 0.4%, the S&P 500 lost 0.1% and the NASDAQ added 0.5%.
CNIS Perspective
What has become apparent over the past couple of years, is the increased level of transparency the RBA has with their policies and how they are rationalising their decisions.

It wasn't that long ago that RBA announcements were shrouded in secrecy and were essentially an element of surprise to all interested parties.

These days they are more focussed on communicating 'forward guidance', where they state what future policy will look like, so with that knowledge, households, businesses and investors are able to make decisions based upon this guidance.

Over time, the forward guidance then becomes self-fulfilling.

Which is why, as investors, we can safely come to the following conclusions:
The RBA will not raise rates for the next two or more years.
Quantitative Easing or the RBA's bond purchasing program will continue, though at lesser amounts in the future as they slowly taper this stimulus tool.
The RBA will wait for inflation as measured by trimmed mean CPI to move higher, before they fully exit the accommodative policy they have in place right now.
They will keep their policy relative to other central banks like the US Federal Reserve, Bank of Japan and Bank of England so as to ensure the AUD doesn't appreciate too rapidly.
Should you wish to discuss this or any other investment related matter, please contact your Investment Services Team on (02) 4928 8500.
---
Disclaimer
The material contained in this publication is the nature of the general comment only, and neither purports, nor is intended to be advice on any particular matter. Persons should not act nor rely upon any information contained in or implied by this publication without seeking appropriate professional advice which relates specifically to his/her particular circumstances. Cutcher & Neale Investment Services Pty Limited expressly disclaim all and any liability to any person, whether a client of Cutcher & Neale Investment Services Pty Limited or not, who acts or fails to act as a consequence of reliance upon the whole or any part of this publication.
Cutcher & Neale Investment Services Pty Limited ABN 38 107 536 783 is a Corporate Authorised Representative of Cutcher & Neale Financial Services Pty Ltd ABN 22 160 682 879 AFSL 433814.