Morning Market Update - 15 July 2021
By Phillip Smith - July 15, 2021
Pre-Open Data

Key Data for the Week

Wednesday – EUR – Industrial Production fell 1.0% in May, missing expectations of a 0.2% decline.
Thursday – AUS – Unemployment Rate
Thursday – UK – Unemployment Rate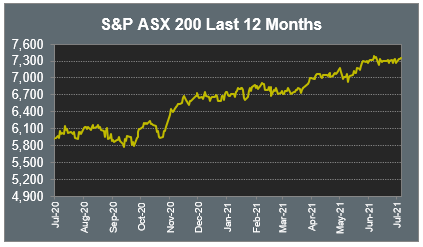 Australian Market
The Australian sharemarket lifted 0.3% yesterday, as all sectors except Information Technology closed higher.

The Utilities sector was the strongest performer, up 3.4%. Spark Infrastructure was the main contributor to the gains, up 7.6% prior to entering a trading halt. APA Group added 4.3% and AGL Energy rose 1.8%, while Origin Energy lifted 0.7%.

Buy-now-pay-later providers dragged the Information Technology sector lower, following reports that Apple plans to allow consumers to repay Apple Pay purchases in instalments. Zip Co tumbled 11.4% and Sezzle shed 10.3%, while market leader Afterpay gave up 9.6%. However, other Information Technology stocks enjoyed gains; Appen added 1.8% and Xero rose 1.0%, while software company Altium lifted 0.3%.

The major banks were mixed; ANZ and Westpac fell 0.6% and 0.2% respectively, while NAB rose 0.1% and Commonwealth Bank gained 0.4%. Fund managers advanced; Magellan Financial Group added 2.0% and Australian Ethical Investment closed up 1.3%, while Challenger lifted 0.4%.

The Materials sector closed up 0.7%, with mixed performances amongst the mining heavyweights; BHP added 0.5% and Fortescue Metals eked out less than 0.1%, while Rio Tinto slipped 0.1%.

The Australian futures point to a 0.14% fall today.

Overseas Markets
European sharemarkets eased overnight after the UK inflation rate jumped to 2.5% in June, its highest level since August 2018 and above the Bank of England's target rate. Travel and leisure stocks were weaker as concerns regarding the spread of the COVID-19 Delta variant continued to rise. International Airlines Group slipped 1.2% and easyJet shed 4.4%, while German airline Lufthansa fell 0.6% after the company reported passenger numbers are currently around 40% of pre-pandemic levels.

Banking stocks outperformed; Lloyds Bank gained 4.5% and Barclays added 0.4%, while Deutsche Bank lifted 0.2%. By the close of trade, the UK FTSE 100 lost 0.5%, while the STOXX Europe 600 slipped 0.1% and the German DAX finished the session flat.

US sharemarkets were mixed on Wednesday after the US Federal Reserve Chair Jerome Powell reassured investors that monetary policy will offer "powerful support" to the economy "until the recovery is complete". The Information Technology sector outperformed; Apple lifted 2.4%, while Microsoft gained 0.5% after the company announced it will offer its Windows operating system as a cloud-based service.

Financials services stocks weakened; PayPal slipped 0.2% and PagSeguro Digital fell 0.7%, while BlackRock gave up 3.1% after the company reported lower than expected fund inflows.

By the close of trade, the Dow Jones and S&P 500 both added 0.1%, while the NASDAQ slipped 0.2%.
CNIS Perspective
The all-important ingredient in economic growth, consumer spending, is once again being challenged by COVID lockdowns.

The consumer sentiment survey conducted over the week of July 5 to 9, during the lockdown in NSW, shows a sharp drop in sentiment in NSW of 10.2%.

This survey was conducted before the lockdowns were extended, which suggests subsequent surveys in the near term will only mean greater challenges to economic growth in Australia's most economically important state.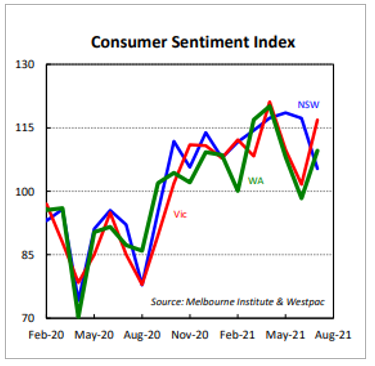 Should you wish to discuss this or any other investment related matter, please contact your Investment Services Team on (02) 4928 8500.
---
Disclaimer
The material contained in this publication is the nature of the general comment only, and neither purports, nor is intended to be advice on any particular matter. Persons should not act nor rely upon any information contained in or implied by this publication without seeking appropriate professional advice which relates specifically to his/her particular circumstances. Cutcher & Neale Investment Services Pty Limited expressly disclaim all and any liability to any person, whether a client of Cutcher & Neale Investment Services Pty Limited or not, who acts or fails to act as a consequence of reliance upon the whole or any part of this publication.
Cutcher & Neale Investment Services Pty Limited ABN 38 107 536 783 is a Corporate Authorised Representative of Cutcher & Neale Financial Services Pty Ltd ABN 22 160 682 879 AFSL 433814.