Morning Market Update - 20 July 2021
By Phillip Smith - July 20, 2021
Pre-Open Data

Key Data for the Week

Monday – US – Housing Market Index edged down to 80 in July, from 81 in June.
Tuesday – AUS – RBA Meeting Minutes
Tuesday – US – Building Permits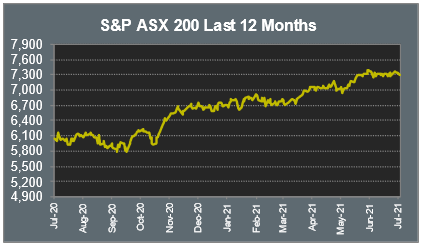 Australian Market
The Australian sharemarket lost 0.9% on Monday as a surge in COVID cases, both in Australia and overseas, worried investors. The rise of the Delta variant has led to mass outbreaks across Asia, and now poses risks to economic growth.

The Materials sector led the losses, down 2.4% and was weakened by the major miners. BHP was the worst performer as it lost 2.1%, while Rio Tinto and Fortescue Metals fell 2.1% and 1.4% respectively. Gold miners also lost ground; Evolution Mining gave up 8.7% and Northern Star Resources shed 4.1%, while Newcrest Mining fell 2.0%.

The Financials sector also fell during the day's trade as NAB dropped 1.2%. Commonwealth Bank and ANZ lost 0.5% and 1.0% respectively, while Westpac shed 0.9%.

A decision from OPEC to boost oil production in attempt to soften the price of crude oil led to losses in the Energy sector. Woodside Petroleum fell 1.9% and Santos shed 2.7%, while Oil Search weighed on the sector and closed 5.2% lower.

The Australian futures point to a 1.0% fall today, driven by weaker overseas markets overnight.

Overseas Markets
European sharemarkets fell more than 2.0% overnight, as the Delta COVID variant sparked fresh lockdown fears. The losses were led by the Travel sector, as easyJet fell 6.6%, International Consolidated Airlines shed 5.2% and Air France-KLM lost 2.9%. All sectors closed lower and the pan-European STOXX 600 gave up 2.3%.

US sharemarkets also closed lower overnight as all sectors closed in the red, again worried by an increase in COVID cases. The Information Technology sector slipped; Mastercard and Visa fell 5.6% and 3.1% respectively, while Apple conceded 2.7%. By the close of the session, the Dow Jones fell 2.1%, the S&P 500 lost 1.6%, while the NASDAQ shed 1.1%.
CNIS Perspective
Despite skyrocketing residential house prices nationwide, recent data out of CoreLogic suggests the number of houses across the country where servicing a mortgage is now cheaper than paying rent is higher than the start of 2020.

The main beneficiary has been regional areas of Australia, with 60.1% of properties currently cheaper to service a mortgage than rent, while across the capital cities, this is only the case in 26.2% of properties. The numbers would be significantly higher if there wasn't such a stark difference in Sydney versus the rest of the country.

Sydney has seen property value growth of over 15% since the start of last year, however, rents have increased just 2.1% in the same period. The relatively subdued rental growth can be pinpointed to soft rental demand from overseas migration.

The combination of lower rent growth and very strong dwelling value growth has meant that even fewer properties across Sydney are cheaper to pay down a mortgage than rent, at just 4.9% versus 7.1% last year.

Despite the Sydney market anomaly, the increase in properties now cheaper to buy and service a mortgage is a reflection of much lower interest costs on debt since the onset of COVID-19. It is likely to stay this way unless we see a significant shift to higher home loan rates, which is unlikely in the next few years.

Should you wish to discuss this or any other investment related matter, please contact your Investment Services Team on (02) 4928 8500.
---
Disclaimer
The material contained in this publication is the nature of the general comment only, and neither purports, nor is intended to be advice on any particular matter. Persons should not act nor rely upon any information contained in or implied by this publication without seeking appropriate professional advice which relates specifically to his/her particular circumstances. Cutcher & Neale Investment Services Pty Limited expressly disclaim all and any liability to any person, whether a client of Cutcher & Neale Investment Services Pty Limited or not, who acts or fails to act as a consequence of reliance upon the whole or any part of this publication.
Cutcher & Neale Investment Services Pty Limited ABN 38 107 536 783 is a Corporate Authorised Representative of Cutcher & Neale Financial Services Pty Ltd ABN 22 160 682 879 AFSL 433814.