Morning Market Update - 27 July 2021
By Phillip Smith - July 27, 2021
Pre-Open Data

Key Data for the Week
Monday – US – New Home Sales unexpectedly fell to 676,000 in June, from 724,000.
Tuesday – CHINA – Industrial Profits
Tuesday – US – Building Permits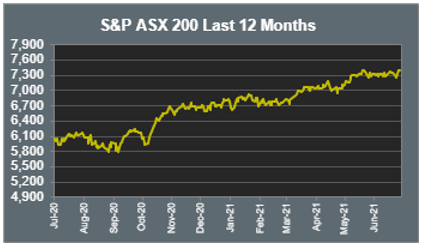 Australian Market
The Australian sharemarket reached another all-time high during the day's trade, although closed the session relatively flat.

The Materials sector was the only notable gainer, as BHP reached a record price of $52.19 to close 1.3% higher. Of the other miners, Rio Tinto rose 2.4% after announcing it will provide its first-half earnings this Wednesday, while Fortescue Metals gained 0.7%. Gold miners weakened; Northern Star Resources dropped 1.4% and Newcrest Mining lost 1.6%.

The Information Technology sector lost ground, weakened by buy-now-pay-later companies Afterpay and Zip, which lost 2.1% and 4.1% respectively. Artificial Intelligence provider, Appen, fell 3.1%, while accounting software provider, Xero, bucked the downward trend to close 0.6% higher.

The Financials sector closed the session relatively flat as the big four banks provided mixed performances. ANZ lost 0.1%, while NAB and Westpac both conceded 0.4%. Commonwealth Bank eked out a less than 0.1% gain.

The Australian futures point to a 0.3% rise today, driven by stronger overseas markets overnight.
Overseas Markets
European sharemarkets closed lower overnight as the pan-European STOXX 600 shed 0.1%. Dutch technology company, Prosus, fell 8.8%. Prosus holds a 28.9% stake in Tencent and was heavily weakened as a result of increased regulatory measures on the Chinese internet giant.

European automakers fell overnight, Porsche dropped 1.9%, while Volkswagen Group lost 0.8%. Travel and leisure stocks were among the better performers, as Ryanair jumped 3.8% after increasing its forecast for full-year traffic.

By the close of trade, the German DAX fell 0.3% and the UK FTSE 100 lost less than 0.1%.

US sharemarkets gained overnight as all three major indices closed at record highs. Investor confidence remains high this week as several technology giants are set to report earnings. This led the Information Technology sector higher as Alphabet added 1.3%, Amazon lifted 1.2% and Apple rose 0.3%. Chinese e-commerce company listed in the US, Alibaba, fell 7.2% as Beijing continues to 'crack down' on offshore companies.

By the close of the session, the Dow Jones and the S&P 500 both added 0.2%, while the NASDAQ rallied 0.3%.
CNIS Perspective
Investors around the globe are pouring money into US financial assets, a sign of confidence the world's largest economy remains poised to pull through the COVID-19 pandemic better than many other nations.

Investors worldwide have funnelled more than US$900 billion into US domiciled investments during the first half of the year. That is a record amount since the data first started being recorded back in 1992.

The inflows underpin the momentum that has carried US stocks to record highs, ahead of major indexes in Europe and Asia.

Many economists have said that while COVID-19 variants, inflation or central bank policy shifts could all slow the US recovery, they don't seem likely to derail it, even as other countries struggle with vaccine rollouts or fresh waves of infections.

Monetary and fiscal stimulus policies have powered a savings surge, and many economists say the US remains the best place to park the cash when it comes to stocks and bonds.
Should you wish to discuss this or any other investment related matter, please contact your Investment Services Team on (02) 4928 8500.
---
Disclaimer
The material contained in this publication is the nature of the general comment only, and neither purports, nor is intended to be advice on any particular matter. Persons should not act nor rely upon any information contained in or implied by this publication without seeking appropriate professional advice which relates specifically to his/her particular circumstances. Cutcher & Neale Investment Services Pty Limited expressly disclaim all and any liability to any person, whether a client of Cutcher & Neale Investment Services Pty Limited or not, who acts or fails to act as a consequence of reliance upon the whole or any part of this publication.
Cutcher & Neale Investment Services Pty Limited ABN 38 107 536 783 is a Corporate Authorised Representative of Cutcher & Neale Financial Services Pty Ltd ABN 22 160 682 879 AFSL 433814.