Morning Market Update - 17 December 2020
By Phillip Smith - December 17, 2020
Pre-Open Data

Key Data for the Week

Key economic data released this week:
Wednesday – UK – Consumer Price Index fell 0.1% in November, taking the annual rate to 0.3%.
Wednesday – US – Retail Sales dropped 1.1% in November, amid a surge in COVID-19 infections and new business restrictions in some states.
Thursday – AUS – Unemployment Rate
Thursday – UK – BoE Interest Rate Decision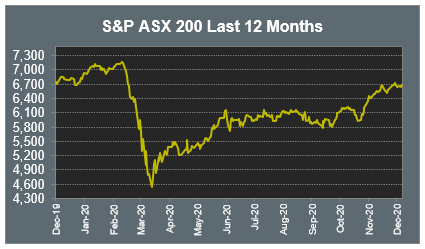 Australian Market
The Australian sharemarket rose 0.7% yesterday, to record its strongest session since 1 December. The Information Technology and Materials sectors led the gains. Mining heavyweights outperformed; BHP, Fortescue Metals and Rio Tinto all rose between 1.7% and 2.3%.

The Financials sector also performed strongly, lifted by the big four banks. ANZ led the gains, up 1.3%, while Commonwealth Bank added 0.9% after the company agreed to a merger of its Aussie Home Loan business with online home loan platform Lendi.

Regional Express Airlines rose 8.0% after the company received a high capacity air operator's certificate, allowing the carrier to fly between Sydney and Melbourne, with flights set to commence in March.

The Health Care and Energy sectors underperformed. CSL and Santos led the declines for each sector, down 1.0% and 1.1% respectively.

The Australian futures market points to a 0.45% rise today, driven by stronger overseas markets overnight.
Overseas Markets
European sharemarkets closed higher on Wednesday, with the broad based STOXX Europe 600 up 0.8%. Real estate companies Rightmove and Vonovia both outperformed, up 3.3% and 2.0% respectively.

US sharemarkets were mixed overnight after the FOMC meeting ended with the Federal Reserve holding rates near zero as expected. The Consumer Discretionary sector was the best performer, supported by Amazon and Alibaba, which rose 2.4% and 2.7% respectively. PayPal continued its recent strength to add 3.9%, while Visa and MasterCard closed slightly lower.

By the close of trade, the Dow Jones slipped 0.2%, while the S&P 500 rose 0.2% and the NASDAQ added 0.5%.
CNIS Perspective
There is no doubt about the importance of China to the Australian economy, given the significant level of trade between the two countries and the analysis below supports this.

China overtook Japan as the largest buyer of our exports in 2010 and now accounts for more than 40% of export revenue. Iron ore is our largest export to China and the three main producers BHP, Rio Tinto and Fortescue Metals together make up more than 11% of the total value of the 2,200 ASX listed companies.

In the last reporting season to June 2020, BHP, Rio Tinto and Fortescue Metals contributed ~40% of all profits reported by ASX companies ($15.8 billion dollars out of $40 billion in total profits).

The chart below of Australia's export buyers since 1788 shows the global power shifts over the period from the UK, Europe and the USA to Asia. It also highlights Australia's central role in helping to build industrial and economic capacity in a string of Asian nations as they emerged one by one along the way – first Japan, then the Asian Tigers, the ASEAN and now China.

For how much longer China remains our number one customer is the big question.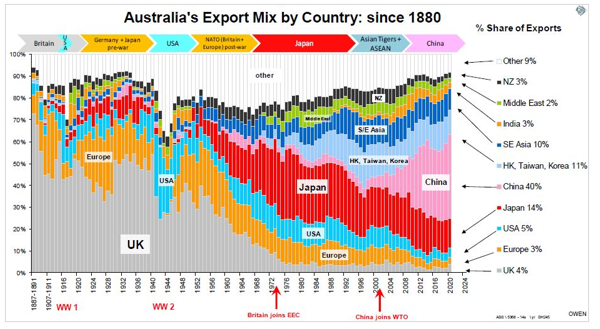 Should you wish to discuss this or any other investment related matter, please contact your Investment Services Team on (02) 4928 8500.
---
Disclaimer
The material contained in this publication is the nature of the general comment only, and neither purports, nor is intended to be advice on any particular matter. Persons should not act nor rely upon any information contained in or implied by this publication without seeking appropriate professional advice which relates specifically to his/her particular circumstances. Cutcher & Neale Investment Services Pty Limited expressly disclaim all and any liability to any person, whether a client of Cutcher & Neale Investment Services Pty Limited or not, who acts or fails to act as a consequence of reliance upon the whole or any part of this publication.
Cutcher & Neale Investment Services Pty Limited ABN 38 107 536 783 is a Corporate Authorised Representative of Cutcher & Neale Financial Services Pty Ltd ABN 22 160 682 879 AFSL 433814.