Morning Market Update - 9 June 2021
By Phillip Smith - June 09, 2021
Pre-Open Data

Key Data for the Week

Tuesday – AUS – NAB Business Conditions and Confidence - Conditions climbed to 37 in May, from 32 in April, while Confidence fell three points to 20.
Tuesday – US – Trade Balance narrowed to a deficit of US$68.9 billion, from US$74.4 billion in April.
Wednesday – AUS – Building Approvals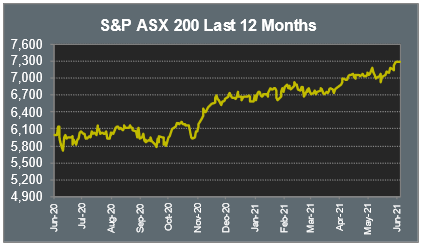 Australian Market
The Australian sharemarket closed 0.2% higher on Tuesday after it reached a record high of 7,315.6 during the day's trade. Gains were limited as investors showed signs of caution as they await inflationary data to be released from the US.

The Information Technology sector was the best performer on the market, up 1.5%. The buy-now-pay-later favourites were mixed; Afterpay added 0.9%, while Zip lost 0.7%. Gains were also seen in accounting software provider, Xero, which lifted 1.4%.

The Healthcare sector was the next best in the day's trade and closed the session 0.8% higher. Market giants CSL and Cochlear added 0.9% and 1.1% respectively, while Sonic Healthcare lifted 0.7% and Ramsay Health Care added 0.3%. Newly listed pathology services provider, Australian Clinical Labs, detracted from the day's gains to close 1.1% lower.

There were mixed performances among the big four banks, which led the Financials sector to close relatively flat. NAB and Westpac gained 0.5% and 0.4% respectively, while Commonwealth Bank lost 0.4% and ANZ shed 0.2%.

The Australian futures market points to a 0.1% rise today.
Overseas Markets
European sharemarkets hit new record highs again on Tuesday, aided by gains in travel stocks. This was largely supported by easyJet, which added 1.8%, after receiving an upgrade from Goldman Sachs. The automaker industry fell 1.1% after a six-day rally, off the back of weak German industrial output data. By the end of trade, the pan-European STOXX 600 index added 0.1%.

US sharemarkets were little changed on Tuesday as investors cautiously await the inflationary data set to be released later this week. Gains in the Information Technology sector were led by Fastly, which added 10.9% after fixing an issue that led to widespread internet outages, despite being to blame for the initial outage.

By the close of the session, the Dow Jones lost 0.1%, while the S&P 500 closed flat and the NASDAQ added 0.3%.
CNIS Perspective
Both the Australian and US economies have been posting significantly improved economic conditions of late, but it's the relative strength of each economy and the subsequent government policy reaction that will drive the direction of the currency.

Over the past year and a quarter, the AUD has strengthened from US$0.57 to as high as US$0.80, on the back of Australia's relatively strong economic performance during COVID. The currency is now 10% stronger than this time last year.

Low interest rates and generous tax incentives will continue to prop up record high business conditions and the third strongest business confidence number on record in Australia, which suggests a strong AUD will continue for some time.

However, what needs to be remembered from a currency perspective, is the relative strength of the US economy.

While Australia's data is sound, the US is becoming stronger, which suggests ultimately a stronger USD versus AUD.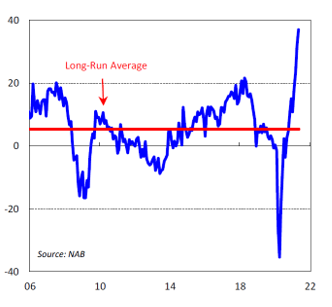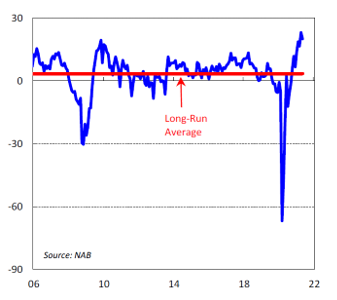 Should you wish to discuss this or any other investment related matter, please contact your Investment Services Team on (02) 4928 8500.
---
Disclaimer
The material contained in this publication is the nature of the general comment only, and neither purports, nor is intended to be advice on any particular matter. Persons should not act nor rely upon any information contained in or implied by this publication without seeking appropriate professional advice which relates specifically to his/her particular circumstances. Cutcher & Neale Investment Services Pty Limited expressly disclaim all and any liability to any person, whether a client of Cutcher & Neale Investment Services Pty Limited or not, who acts or fails to act as a consequence of reliance upon the whole or any part of this publication.
Cutcher & Neale Investment Services Pty Limited ABN 38 107 536 783 is a Corporate Authorised Representative of Cutcher & Neale Financial Services Pty Ltd ABN 22 160 682 879 AFSL 433814.