Morning Market Update - 1 December 2021
By Phillip Smith - December 01, 2021
Pre-Open Data

Key Data for the Week
Tuesday – EUR – Consumer Price Index increased to 110.54 in October, from 109.57 in September.
Tuesday – US – Consumer Confidence fell to 109.5 in November, from 111.6 in October.
Wednesday – AUS – Gross Domestic Product
Wednesday – US – Markit Manufacturing PMI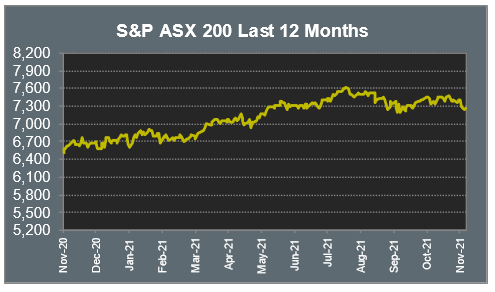 Australian Market
The Australian sharemarket added 0.2% yesterday, despite rising as much as 1.2% during the session, as it followed a solid lead from the US. Shares slipped late in the afternoon, which dampened the recovery from the Omicron sell-off.
Travel and leisure stocks regained some of the lost ground incurred over the past two trading sessions as a result of Omicron jitters. Qantas closed the session 3.3% higher, while Flight Centre and Webjet added 4.5% and 5.2% respectively.
Mixed performances among the major miners resulted in a 0.3% increase in the Materials sector. BHP rose 2.1%, while Fortescue Metals lost 3.4% and Rio Tinto conceded 2.0%. Gold miners slipped; Northern Star Resources shed 2.3%, while Evolution Mining dropped 2.2%.
In company news, KFC owner Collins Food jumped 12.6% after the company increased first half profit. Credit Corp also outperformed on the market, after it was announced they would purchase Radio Rentals. As a result, shares traded 8.6% higher, as the company increased full-year earnings forecast.
The Australian futures market points to a 0.49% fall today, driven by weaker overseas markets.
Overseas Markets
European sharemarkets weakened overnight as worries regarding the efficacy of vaccines against Omicron weakened investor confidence. The Travel and Leisure sector continued to weaken; Ryanair lost 0.6% and easyJet shed 1.8%, while Lufthansa dropped 2.5%. The Materials sector bucked the downward trend to close 0.1% higher, with gains led by BHP as it lifted 0.4%. By the close of trade, the STOXX Europe 600 dropped 0.9% and the UK FTSE 100 eased 0.7%, while the German DAX slid 1.2%.
US sharemarkets also fell on Tuesday as COVID jitters were coupled with talk of tapering bond purchases from Federal Reserve Chair Jerome Powell. All sectors closed the session lower, as Communication Services and Energy led the losses. 'Big tech' companies also lost ground; Amazon shed 1.5% and Alphabet lost 2.5%. By the close of trade, the NASDAQ gave up 1.6%, while the S&P 500 and Dow Jones both lost 1.9%.
CNIS Perspective
In a sign of renewed optimism about business confidence, yesterday's credit data showed credit extended to businesses lifted 5.3% in October, the highest annual growth since May 2020 and higher than the 10 year average of 3.5%.
Business credit growth had previously been underpinned by businesses in NSW and Victoria trying to boost their cashflow buffers during lockdown.
However, business optimism emerged before the end of the lockdowns and business surveys suggest that businesses are feeling more optimistic, including about their expansion plans.
There are several factors that continue to underpin business spending and the need for credit by businesses. These include low interest rates and government incentives like asset write-off schemes.
The recovery underway in the economy is another fundamental factor spurring business credit and confirms the optimism next year for strong economic activity, which is also shared by the Reserve Bank.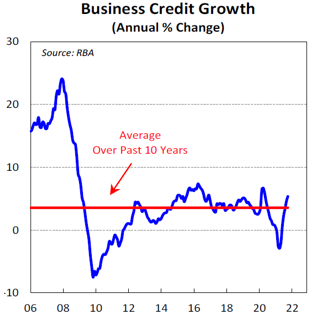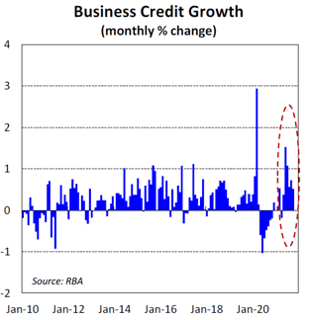 Should you wish to discuss this or any other investment related matter, please contact your Investment Services Team on (02) 4928 8500.
---
Disclaimer
The material contained in this publication is the nature of the general comment only, and neither purports, nor is intended to be advice on any particular matter. Persons should not act nor rely upon any information contained in or implied by this publication without seeking appropriate professional advice which relates specifically to his/her particular circumstances. Cutcher & Neale Investment Services Pty Limited expressly disclaim all and any liability to any person, whether a client of Cutcher & Neale Investment Services Pty Limited or not, who acts or fails to act as a consequence of reliance upon the whole or any part of this publication.
Cutcher & Neale Investment Services Pty Limited ABN 38 107 536 783 is a Corporate Authorised Representative of Cutcher & Neale Financial Services Pty Ltd ABN 22 160 682 879 AFSL 433814.