Morning Market Update - 13 October 2021
By Phillip Smith - October 13, 2021
Pre-Open Data

Key Data for the Week
Tuesday – AUS – NAB Business Conditions & Confidence – Confidence rose 19 points, while Conditions slipped 10 points.
Tuesday – UK – ILO Unemployment Rate fell to 4.5%, from 4.6% in July.
Wednesday – CHINA – Trade Balance
Wednesday – US – Consumer Price Index
Wednesday – EUR – Industrial Production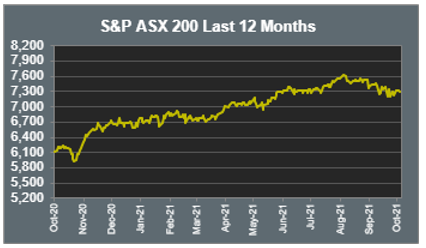 Australian Market
The Australian sharemarket closed 0.3% lower yesterday, as investors await US inflation figures and the third-quarter earnings season in the US.
The Energy sector lost ground despite being one of the best performing sectors on the market during the past month. Woodside Petroleum led the losses, down 1.3%, while Santos lost 0.7% and Oil Search closed the session relatively flat.
Losses were seen in the Information Technology sector for the second day running, as artificial intelligence provider, Appen, fell 3.9%. Afterpay continued to weaken, down 2.7%, while Zip and Sezzle lost 3.2% and 5.1% respectively.
In the Financials sector, Westpac announced their second-half profit is expected to be down by $1.3 billion and shares closed 1.7% lower. ANZ also finished the session in the red, as it lost 0.7%, while Commonwealth Bank and NAB bucked the downward trend to both add 0.2%.
The Australian futures market points to a 0.19% gain today.
Overseas Markets
European sharemarkets lost ground on Tuesday, with investors cautious of any inflationary rumours. The travel sector closed lower, as Airbus shed 0.5% after the company announced their deliveries were relatively flat in September. By the close of trade, the STOXX Europe 600 lost 0.1% and German DAX fell 0.3%, while the UK's FTSE 100 conceded 0.2%.
US sharemarkets also finished lower overnight. Investors are cautiously awaiting the release of the Federal Reserve's minutes from their latest policy meeting regarding the tapering of bond purchases. Microsoft, Apple and Alphabet all lost between 0.5% and 1.8%, while Tesla enjoyed gains as the company announced they sold their highest amount of Chinese-made vehicles in September.
By the close of trade, the NASDAQ lost 0.1% and the S&P 500 closed down 0.2%, while the Dow Jones conceded 0.3%.
CNIS Perspective
It's a graph the Federal Government will be pleased to see as it tries to avoid negative GDP growth in the December quarter and therefore a 2021 recession.
The graph shows Business Confidence has been more resilient this year than earlier in the pandemic, likely reflecting the certainty provided by vaccines and the release of reopening roadmaps. Businesses have also learnt how to better adapt to lockdowns after their experiences during the pandemic last year.
Its rise of 19 points to a 4-month high of +13, puts it back in positive territory and well-above the long-run average. It is the biggest monthly gain since mid-2020.
By state, the rebound in Confidence was driven largely by a sharp jump in NSW and a rise in Victoria. In trend terms, Confidence remains strongest in the smaller states which have avoided lengthy lockdowns – Tasmania, Western Australia, and South Australia.
By industry, the jump in Confidence was led by recreation, personal services and wholesale trade.
All in all, it bodes well for very strong December quarter GDP data.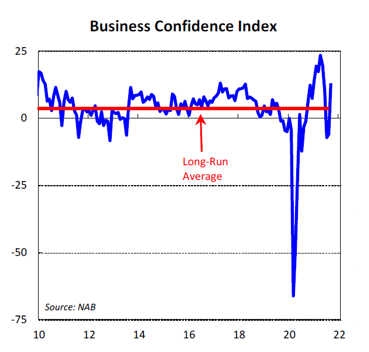 Should you wish to discuss this or any other investment related matter, please contact your Investment Services Team on (02) 4928 8500.
---
Disclaimer
The material contained in this publication is the nature of the general comment only, and neither purports, nor is intended to be advice on any particular matter. Persons should not act nor rely upon any information contained in or implied by this publication without seeking appropriate professional advice which relates specifically to his/her particular circumstances. Cutcher & Neale Investment Services Pty Limited expressly disclaim all and any liability to any person, whether a client of Cutcher & Neale Investment Services Pty Limited or not, who acts or fails to act as a consequence of reliance upon the whole or any part of this publication.
Cutcher & Neale Investment Services Pty Limited ABN 38 107 536 783 is a Corporate Authorised Representative of Cutcher & Neale Financial Services Pty Ltd ABN 22 160 682 879 AFSL 433814.