Morning Market Update - 15 April 2021
By Phillip Smith - April 15, 2021
Pre-Open Data

Key Data for the Week

Wednesday – EUR – Industrial Production fell 1.0% in February, above expectations of a 1.1% fall. On an annual basis, industrial production fell 1.6%.
Thursday – AUS – Consumer Inflation Expectations
Thursday – EUR – Consumer Price Index
Thursday – US – Retail Sales




Australian Market
The Australian sharemarket rose 0.7% yesterday, to close above 7,000 for the first time since February 2020. All sectors closed higher with Health Care amongst the best performers as CSL added 1.2% and Sonic Healthcare rose 1.9%.

The Information Technology sector was the best performer, as Afterpay, WiseTech Global and Xero all rose between 2.0% and 3.3%.

Mining heavyweights rose to help lift the Materials sector; BHP and Rio Tinto both added 0.7%, while Fortescue Metals slipped 0.6%. Galaxy Resources rose 8.3% after the company announced it is in advanced talks to develop its Sal de Vida lithium operations in Argentina, at a cost of $153 million.

The Financials sector closed higher, while the big four banks were mixed; Commonwealth Bank gained 0.7%, Westpac rose 0.1%, while ANZ closed flat and NAB lost 0.3%. Magellan Financial Group and Macquarie Group added 1.9% and 0.7% respectively, while Australian Ethical Investment eased 1.6% from recent highs.

The Australian futures market points to a 0.55% fall today.
Overseas Markets
European sharemarkets were mixed on Wednesday. Airbus added 1.9% as the company announced Q121 deliveries of over 70 commercial jets and guided for higher deliveries this quarter. LVMH Moët Hennessy Louis Vuitton gained 2.9% after sales bounced back quicker than expected in Q121 as Chinese and US shoppers made the most of easing COVID-19 restrictions.

US sharemarkets were mixed overnight, as growth stocks underperformed. The Consumer Discretionary and Information Technology sectors were the weakest performers; Shopify and Amazon slipped 5.0% and 2.0% respectively, while Apple, Spotify and Microsoft all lost between 1.1% and 1.9%. By the close of trade, the Dow Jones rose 0.2%, while the S&P 500 lost 0.4% and NASDAQ slipped 1.0%.

CNIS Perspective
Champion ice hockey player Wayne Gretzky is famously quoted in saying "I skate to where the puck is going to be, not where it has been".

In a lot of ways, the same can be said about investing. You want your money positioned to where the returns are going to be generated, not to where they once were.

Over the years, there have been a number of sectors this has applied to, for example, telecommunications and air travel.

Currently, there is another obvious example of where future investing will be profitable and that is in Electric Vehicles (EV).

Global EV sales volumes were up 43% in 2020, and compared to combustion motors, EV sales in the USA increased 4% year on year, whilst the combustion auto market sales fell 15% year on year.

Sales of electric and hybrid-electric vehicles have been steadily increasing over the last decade, with EVs now making up 4.2% of all light vehicles globally, as of December 2020, and are on a steep upward trajectory.

Decarbonisation is here to stay and it's relatively easy to predict the puck is already in play for this sector.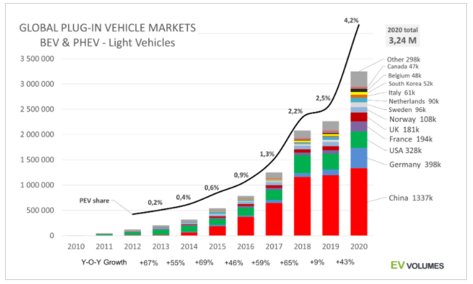 Should you wish to discuss this or any other investment related matter, please contact your Investment Services Team on (02) 4928 8500.
---
Disclaimer
The material contained in this publication is the nature of the general comment only, and neither purports, nor is intended to be advice on any particular matter. Persons should not act nor rely upon any information contained in or implied by this publication without seeking appropriate professional advice which relates specifically to his/her particular circumstances. Cutcher & Neale Investment Services Pty Limited expressly disclaim all and any liability to any person, whether a client of Cutcher & Neale Investment Services Pty Limited or not, who acts or fails to act as a consequence of reliance upon the whole or any part of this publication.
Cutcher & Neale Investment Services Pty Limited ABN 38 107 536 783 is a Corporate Authorised Representative of Cutcher & Neale Financial Services Pty Ltd ABN 22 160 682 879 AFSL 433814.