Morning Market Update - 16 April 2021
By Phillip Smith - April 16, 2021
Pre-Open Data

Key Data for the Week

Thursday – AUS – Consumer Inflation Expectations fell from 4.1% in March to 3.2% in April.
Thursday – US – Retail Sales climbed 9.8% in March, above expectations of a 5.9% rise. Spending was supported by the latest round of stimulus checks and the general economic reopening.
Friday – CHINA – Gross Domestic Product




Australian Market
The Australian sharemarket added 0.5% yesterday, to close above 7,000 for the second straight day. The Materials sector was the best performer; mining heavyweights BHP, Fortescue Metals and Rio Tinto all added between 2.9% and 3.5%.

The Energy sector also outperformed. Santos added 2.3%, while Ampol climbed 5.4% after the company reported 1Q21 earnings above expectations, totaling $150 million. Whitehaven Coal slumped 15.5% after the company downgraded its FY21 coal production guidance.

The big four banks all closed between 0.1% and 0.7% higher, led by Westpac. Commonwealth Bank rose 0.1% after CEO Matt Comyn said home loan growth could lead to a 3% increase in mortgage profit. Australian Ethical Investment rose 1.4%, after the company reported 1Q21 Funds Under Management (FUM) rose 7.1%, after they received record quarterly inflows of $0.3 billion. FUM for the financial year to date is up 33.4%.

The Consumer Staples sector was lifted by Woolworths and Wesfarmers, up 1.2% and 0.2% respectively, while Telstra slipped 1.2% to weigh on the Telecommunications sector.

The Australian futures market points to a 0.21% rise today, driven by stronger overseas markets overnight.
Overseas Markets
European sharemarkets rose on Thursday, with the broad based STOXX Europe 600 up 0.5%, to close at a record high. Airbus and HelloFresh continued their recent strength, up 2.6% and 1.9% respectfully. UK water and waste services company United Utilities added 2.4%, while renewable energy company Vestas Wind Systems rose 2.0%.

US sharemarkets also closed at a new record high overnight. The REITs sector was the best performer; American Tower, Digital Realty, Equinix and Prologis all added between 2.3% and 3.5%. Information Technology stocks also outperformed; NVIDIA gained 5.6% and Spotify rose 4.2%, while cybersecurity companies Fortinet and CrowdStrike rallied 3.1% and 2.4% respectively.

By the close of trade, the Dow Jones rose 0.9%, the S&P 500 added 1.1% and the NASDAQ lifted 1.3%.

CNIS Perspective
Australia's employment data released yesterday continues to show how strong the local economic recovery is.

The unemployment rate declined to 5.6%, from 5.8% in February. This is on top of the participation rate reaching 66.1%, the highest reading since the series began in 1978. The participation rate typically increases when the economy is performing well.

There are now more people employed in Australia than before the pandemic!

However, despite the strong employment data over the last several months, the RBA have indicated the unemployment rate will likely need to be around 4% to get inflation sustainably back in the 2% - 3% per annum target band. The unemployment rate has not been at this level since 2008!

In other words, while the labour market has significantly improved, there remains some way to go before meeting the required conditions for the RBA to increase the official cash rate. These low interest rates will continue to support both property and stock prices.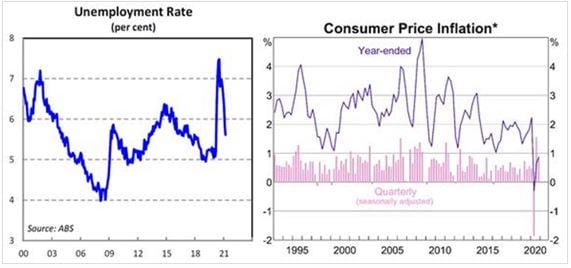 Should you wish to discuss this or any other investment related matter, please contact your Investment Services Team on (02) 4928 8500.
---
Disclaimer
The material contained in this publication is the nature of the general comment only, and neither purports, nor is intended to be advice on any particular matter. Persons should not act nor rely upon any information contained in or implied by this publication without seeking appropriate professional advice which relates specifically to his/her particular circumstances. Cutcher & Neale Investment Services Pty Limited expressly disclaim all and any liability to any person, whether a client of Cutcher & Neale Investment Services Pty Limited or not, who acts or fails to act as a consequence of reliance upon the whole or any part of this publication.
Cutcher & Neale Investment Services Pty Limited ABN 38 107 536 783 is a Corporate Authorised Representative of Cutcher & Neale Financial Services Pty Ltd ABN 22 160 682 879 AFSL 433814.