Morning Market Update - 22 December 2021
By Phillip Smith - December 22, 2021
Pre-Open Data

Key Data for the Week
Tuesday – AUS – RBA Board Meeting Minutes – Policy settings were left unchanged.
Tuesday – EUR – Consumer Confidence fell 1.5 points to -8.3 in December.
Wednesday – US – Gross Domestic Product
Wednesday – US – Existing Home Sales
Wednesday – UK – Gross Domestic Product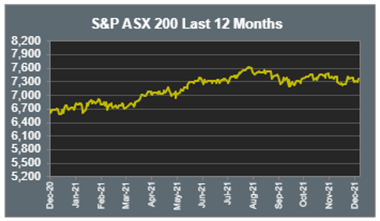 Australian Market
The Australian sharemarket lifted 0.9% yesterday, in what was the domestic market's best performance in two weeks. The RBA did not allude to any upcoming rate rises and claimed there was no hurry to raise rates next year.
The Health Care sector outperformed yesterday, as CSL increased 4.9%. Australian Clinical Labs soared 12.2%, after the company upgraded their first-half earnings guidance, as they are set to benefit from the increase in COVID testing. This is the company's fourth earnings upgrade since it listed on the ASX in May of this year.
The big miners enjoyed a jump in the price of iron ore. Fortescue Metals added 1.7% and Rio Tinto lifted 3.2%, while BHP and Mineral Resources added 1.4% and 1.8% respectively. Gold miners also enjoyed gains; Northern Star Resources lifted 2.2% and Evolution Mining gained 2.5%.
The Financials sector added 0.4%, as all four big banks finished higher. NAB was the best performer, up 0.7%, while Commonwealth Bank, ANZ and Westpac all added between 0.2% and 0.4%.
The Australian futures market points to a 0.06% gain today, driven by stronger overseas markets.
Overseas Markets
European sharemarkets enjoyed gains on Tuesday, as many of the COVID sensitive sectors rebounded from the day prior. The Materials sector outperformed as a result of a gain in the price of iron ore. London-listed BHP and Rio Tinto added 2.3% and 3.4% respectively, while Glencore closed the session relatively flat.
The 'buy the dip' mentality continued as investors returned to the Energy sector. As a result, the oil majors rebounded; BP jumped 3.0% and Royal Dutch Shell added 3.1%. The Travel and Leisure sector also enjoyed gains, as Lufthansa added 6.6% and easyJet lifted 5.3%, while Ryanair closed the session 4.0% higher. By the close of trade, the German DAX, the UK's FTSE 100 and the pan-European STOXX 600 all added 1.4%.
US sharemarkets were also higher overnight as the Information Technology gained. Chip manufacturer, NVIDIA Corporation, added 4.9%, while Microsoft lifted 2.3% and Amazon closed the session 2.0% higher. Payment system providers, Mastercard and Visa, also enjoyed gains, as they jumped 4.1% and 3.2% respectively. The Financials sector was also stronger, as Goldman Sachs added 2.3% and JP Morgan rose 1.4%. Bank of America lifted 2.4%, as the sector was boosted by an increase in treasury yields. By the close of trade, the NASDAQ soared 2.4% and the S&P 500 added 1.8%, while the Dow Jones closed 1.6% higher.
CNIS Perspective
Today is the last Morning Market Update for 2021.
It's certainly been another challenging year and we trust you have found our updates informative and interesting.
From the Cutcher & Neale Wealth Management team to you and your loved ones, we wish you a safe and happy Christmas and a healthy and prosperous 2022.
Phil
Should you wish to discuss this or any other investment related matter, please contact your Wealth Management Team on (02) 4928 8500.
---
Disclaimer
The material contained in this publication is the nature of the general comment only, and neither purports, nor is intended to be advice on any particular matter. Persons should not act nor rely upon any information contained in or implied by this publication without seeking appropriate professional advice which relates specifically to his/her particular circumstances. Cutcher & Neale Investment Services Pty Limited expressly disclaim all and any liability to any person, whether a client of Cutcher & Neale Investment Services Pty Limited or not, who acts or fails to act as a consequence of reliance upon the whole or any part of this publication.
Cutcher & Neale Investment Services Pty Limited ABN 38 107 536 783 is a Corporate Authorised Representative of Cutcher & Neale Financial Services Pty Ltd ABN 22 160 682 879 AFSL 433814.