Morning Market Update - 23 May 2022
By Phillip Smith - May 23, 2022
Pre-Open Data

Key Data for the Week
Tuesday – EUR – Markit Manufacturing PMI
Tuesday – UK – Markit Manufacturing PMI
Tuesday – US – New Home Sales
Tuesday – US – Markit Manufacturing PMI
Wednesday – US – FOMC Meeting
Thursday – US – Gross Domestic Product
Friday – AUS – Retail Sales
Friday – CHINA – Industrial Profits
Friday – UK – Nationwide House Prices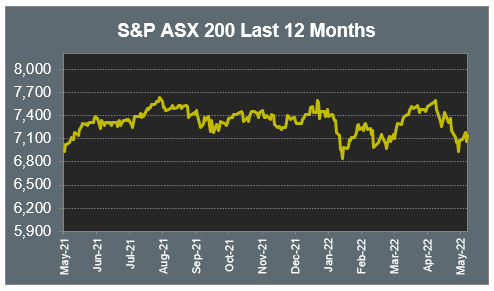 Australian Market
The Australian sharemarket enjoyed a positive end to the week, as it rose 1.2% on Friday, and 1.0% over the course of the week. This comes as China announced they would take measures to aid its economy as the country eases its strict COVID measures.
The Information Technology sector soared 4.6% to lead the gains on Friday. Afterpay's parent company, Block, jumped 9.9%, while other buy-now-pay-later providers also enjoyed gains. Software company Altium added 6.2%, while accounting software provider Xero, was up 3.4%.
The major miners advanced as the Materials sector added 2.2%. Fortescue Metals was the best performer, up 3.9%, while BHP and Rio Tinto lifted 2.1% and 1.5% respectively. Goldminers also gained; Northern Star Resources rose 4.1%, while Evolution Mining closed the session 6.3% higher.
In company news, online marketplace, MyDeal, soared 55.8% after it was announced that Woolworths had agreed to acquire the company for $1.05 per share. Woolworths shares were up 0.5%.
The Australian futures market points to a 0.21% fall today.
Overseas Markets
European sharemarkets closed higher on Friday, as it followed strength from the Asian markets as the People's Bank of China cut its 5-year lending rate. Automakers outperformed during trading; Porsche added 1.0%, while Volkswagen Group lifted 0.3%.
The Travel & Leisure sector was the next best performer on the markets, as easyJet added 3.2% after the company announced strong half-yearly results. Among the other airlines, Lufthansa followed suit to add 0.7%, while Air France gained 1.1%.
By the close of trade, the STOXX Europe 600 and German DAX both lifted 0.7%, while the UK FTSE 100 added 1.2%.
US sharemarkets were mixed on Friday, as the indices continued their recent run of weakness. The Financials sector declined, as the major banks all lost ground. JP Morgan and Wells Fargo both dropped 0.8%, while Citigroup was relatively flat.
The Information Technology sector was mixed, as Microsoft and Alphabet shed 0.2% and 1.3% respectively, while Apple bucked the downward trend to close up 0.2%. Cybersecurity providers enjoyed gains; CrowdStrike Holdings lifted 4.3% and Fortinet rose 3.7%.
By the close of trade, the Dow Jones and S&P 500 were both relatively flat, while the NASDAQ dropped 0.3%. However, over the week, the NASDAQ gave up 0.3% and the S&P 500 fell 2.8%, while the Dow Jones was relatively flat.
CNIS Perspective
The Australian Labor Party (ALP), along with a number of independents, rose to power on the weekend following a sweeping election result.
They enter government in an economic backdrop of fiscal repair, facing a cost-of-living crisis driven by steep inflation and with a program of rising interest rates already underway.
Both parties were looking to grow their way out of the pandemic debt, with the ALP focused on wages growth, aged care, childcare and the NBN.
With injections coming in the form of higher government spending in the near term and an ALP commitment to a 5.1% (in line with CPI rises) increase in the minimum wage, will the Reserve Bank of Australia need to raise rates further than their current guidance.
Should you wish to discuss this or any other investment related matter, please contact your Wealth Management Team on (02) 4928 8500.
---
Disclaimer
The material contained in this publication is the nature of the general comment only, and neither purports, nor is intended to be advice on any particular matter. Persons should not act nor rely upon any information contained in or implied by this publication without seeking appropriate professional advice which relates specifically to his/her particular circumstances. Cutcher & Neale Investment Services Pty Limited expressly disclaim all and any liability to any person, whether a client of Cutcher & Neale Investment Services Pty Limited or not, who acts or fails to act as a consequence of reliance upon the whole or any part of this publication.
Cutcher & Neale Investment Services Pty Limited ABN 38 107 536 783 is a Corporate Authorised Representative of Cutcher & Neale Financial Services Pty Ltd ABN 22 160 682 879 AFSL 433814.