Morning Market Update - 30 July 2021
By Phillip Smith - July 30, 2021
Pre-Open Data

Key Data for the Week
Thursday – AUS – Trade Balance – Export Index was up 13.2% and the Import Index rose 1.9% for June Quarter.
Thursday – US – Gross Domestic Product lifted to an annual rate of 5% in the June quarter, below expectations of 8.5%.
Friday – EUR – Unemployment Rate
Friday – EUR – Gross Domestic Product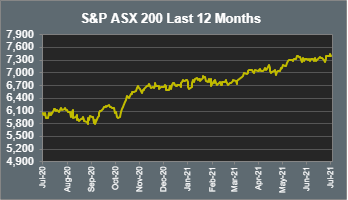 Australian Market
The Australian sharemarket rallied on Thursday following strong profit signals from its largest listed companies and rising commodity prices. The top performing sectors were Technology (2.6%), Materials (1.5%) and Healthcare (0.8%). Meanwhile, Real Estate was among the worst performers (-1.2%).

The financial technology company IRESS led gains, advancing 13.9%, after news that it favorably received a second takeover bid from EQT Fund Management. Another technology stock of note was Afterpay, which rose 3.1%.

Real estate shares suffered the most, suggesting market concerns regarding the escalating spread of COVID-19 in Sydney and its extended lock-down. Analysts warn further restrictions could weigh on real estate company profits, with some revising their earnings forecasts. Stockland was the hardest hit, falling 2.5%, meanwhile Dexus also declined 1.6%.

The Australian futures point to a 0.1% rise today, driven by stronger commodity prices and overseas markets.
Overseas Markets
European sharemarkets struck all-time highs as the reporting season continues. Meanwhile, reports of record high economic confidence in the eurozone reinforced market sentiment. The German DAX rose by 0.5%, while the UK FTSE 100 climbed 0.9%.

Miners led the rally overnight, up 2.4%. The most notable gainers were Royal Dutch Shell (3.8%), Rio Tinto (2.6%) and BHP (2.0%), as rising commodity prices contributed to sector performance. On the other hand, Swiss bank Credit Suisse fell 2.0%, following close to an 80% fall in second-quarter profit, due to the downfall of its investment bank unit Archegos.

US sharemarkets were steadier on Thursday despite lower-than-expected economic growth. Investor sentiment proved resilient, buoyed by positive corporate earnings, as 91% of companies have exceeded market estimates. Nine out of eleven industry groups closed higher, with Materials, Financials, and Energy leading rally. The Dow Jones and the S&P 500 rose 0.4%, while the NASDAQ edged higher by 0.1%.
CNIS Perspective
The broadest measure of US economic performance, Gross Domestic Product (GDP), was released overnight, showing growth rose to an annual rate of 6.5% during the second quarter, up from 6.3% in the first quarter.

The rise was boosted by an 11.8% increase in personal consumption expenditure, with a notable contribution from food services and accommodation spending, with vaccinated Americans travelling and engaging in activities they were previously restricted from.

Despite this, the quarterly data fell well short of economists' predictions of 8.5% annualised growth. However, total GDP for 2021 is 90% of the growth that the Organization for Economic Cooperation and Development (OECD) expected for the entire year, in just half of the time they expected it to get there!

The US economy is booming, and it shows that so far, mass rollout of stimulus to put money in the hands of consumers really does flow through to economic expansion, with the country on track to offset the negative impact of the pandemic.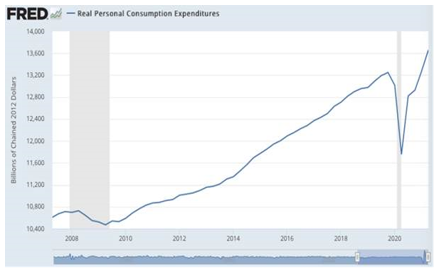 Should you wish to discuss this or any other investment related matter, please contact your Investment Services Team on (02) 4928 8500.
---
Disclaimer
The material contained in this publication is the nature of the general comment only, and neither purports, nor is intended to be advice on any particular matter. Persons should not act nor rely upon any information contained in or implied by this publication without seeking appropriate professional advice which relates specifically to his/her particular circumstances. Cutcher & Neale Investment Services Pty Limited expressly disclaim all and any liability to any person, whether a client of Cutcher & Neale Investment Services Pty Limited or not, who acts or fails to act as a consequence of reliance upon the whole or any part of this publication.
Cutcher & Neale Investment Services Pty Limited ABN 38 107 536 783 is a Corporate Authorised Representative of Cutcher & Neale Financial Services Pty Ltd ABN 22 160 682 879 AFSL 433814.