Morning Market Update - 7 September 2021
By Phillip Smith - September 07, 2021
Pre-Open Data

Key Data for the Week
Monday – AUS – TD Securities Inflation reported inflation was flat for August, down from 0.5% in the prior month.
Tuesday – AUS – RBA Interest rate Decision
Tuesday – EUR – Employment Change
Tuesday – EUR – Gross Domestic Product
Australian Market
The Australian sharemarket eked out a 0.1% gain on Monday, as it recovered from a relatively weak start to the trading session. Cases of COVID-19 continue to grow in NSW and Victoria, resulting in weaker-than-expected growth forecasts.

The Information Technology sector was the best performer on the market, up 1.2%. Gains were led by buy-now-pay-later companies, Afterpay and Zip, as they added 1.7% and 3.0% respectively, while Sezzle closed the session 4.4% higher. Artificial intelligence provider, Appen, lifted 1.7%, while accounting software provider, Xero, rose 1.2%.

Consumer Discretionary provided the next best performance yesterday, as it added 0.9%. Retailers enjoyed gains; JB Hi-Fi added 1.1% and Kogan lifted 0.4%. Bookmakers had mixed performances as Pointsbet and Tabcorp Holdings gained 2.1% and 1.9% respectively. Newly listed Bluebet Holdings slumped 21.7% after the company withdrew an application for a permit in Virginia, US.

Fortescue Metals fell 10.9% after the company traded ex-dividend, to lead losses in the Materials sector. Of the other miners, BHP shed 0.4% and Rio Tinto conceded 0.6%.

The Australian futures point to a 0.17% gain today, driven by gains in overseas markets.
Overseas Markets
European sharemarkets advanced on Monday to near record levels as an increase in German factory orders lifted investor sentiment. Gains were led by Information Technology stocks, as Dutch technology investor, Prosus, added 2.0% and semiconductor producer, Infineon Technologies, lifted 0.8%.

Travel stocks had mixed performances; Lufthansa shed 0.9% and easyJet added 0.9%, while Ryanair gained 1.5%.

By the close of trade, the STOXX Europe 600 rose 0.7%, while the UK's FTSE 100 added 0.7% and German DAX gained 1.0%.

US sharemarkets were closed on Monday for Labor Day.
CNIS Perspective
The Household Savings Rate usually goes up when there's a decline in general economic activity, as individuals preserve cash and cut down on costs. However, it can quickly fall back down when positive signs of economic growth resurface.

This recession has been no different, as evidence shows in the US Household Savings Rate over the past few months, with warmer weather, and a wind back in restrictions, creating a spending boom.

What is impressive, is how fast savings can be spent post-recession, in this case, when COVID restrictions were eased in the US. In just March of this year, the savings rate sat well above 25%, to now, firmly under 10%.

As we move into the warmer months here in Australia, the Household Savings Rate currently sits at 9.7%, twice as high as 2019, despite the significant spending that we experienced in summer last year.

Restrictions are set to ease in the coming months, which will release the pent-up demand from the Australian consumer, with a spending spike just in time for the Christmas holiday season.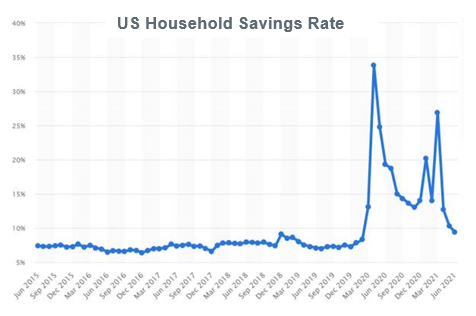 Should you wish to discuss this or any other investment related matter, please contact your Investment Services Team on (02) 4928 8500.
---
Disclaimer
The material contained in this publication is the nature of the general comment only, and neither purports, nor is intended to be advice on any particular matter. Persons should not act nor rely upon any information contained in or implied by this publication without seeking appropriate professional advice which relates specifically to his/her particular circumstances. Cutcher & Neale Investment Services Pty Limited expressly disclaim all and any liability to any person, whether a client of Cutcher & Neale Investment Services Pty Limited or not, who acts or fails to act as a consequence of reliance upon the whole or any part of this publication.
Cutcher & Neale Investment Services Pty Limited ABN 38 107 536 783 is a Corporate Authorised Representative of Cutcher & Neale Financial Services Pty Ltd ABN 22 160 682 879 AFSL 433814.