Morning Market Update - 8 December 2020
By Phillip Smith - December 08, 2020
Pre-Open Data

Key Data for the Week

Key economic data released this week:
Monday – CHINA – Trade Balance widened to a record US $75.4 billion in November, from US $58.4 billion in October.
Tuesday – AUS – NAB Business Conditions & Confidence
Tuesday – EUR – Gross Domestic Product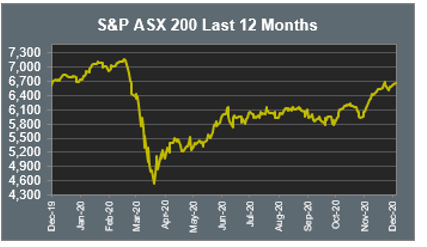 Australian Market
The Australian sharemarket extended its gains on Monday to five consecutive days after the ASX 200 improved 0.6%. The Materials and Information Technology sectors were the strongest performers, both up 1.5%, while the Utilities and Consumer Discretionary sectors closed in the red.

The Materials sector saw strong gains yesterday as iron ore prices surged 5.4% due to strong demand from China. Fortescue Metals climbed 3.8%, while Rio Tinto and BHP rallied 2.5% and 2.1% respectively. Goldminers were mixed on Monday; Evolution Mining fell 1.0% and Northern Star lost 0.5%, while Newcrest Mining rose 0.2%.

The Financials sector also advanced. Westpac closed flat after the company announced the sale of Westpac Fiji and its 89% stake in Westpac PNG for up to $420 million. ANZ added 0.2% and NAB rose 0.5%, while Commonwealth Bank lifted 0.7% after the company gained a banking license for its Dutch subsidiary.

The Information Technology sector rallied yesterday. Accounting software platform, Xero, jumped 4.2% and Appen rose 0.8%. Buy-now-pay-later companies were mostly lower; Afterpay lifted 2.2%, while Splitit sunk 4.8%, Sezzle lost 3.3% and Zip Co fell 1.1%.

The Australian futures market points to a 0.15% fall today.
Overseas Markets
European sharemarkets were mixed overnight as Brexit negotiations continued. British Prime Minister Boris Johnson and EU President Ursula von der Leyen issued a joint statement that indicated a new trade deal was impossible due to "remaining differences on critical issues". The Financials sector was the weakest performer; Lloyds Bank and HSBC lost 4.3% and 2.6% respectively, while Deutsche Bank fell 1.7% and Barclays slipped 1.6%. By the close of trade, the broad based STOXX Europe 600 fell 0.3% and the German DAX lost 0.2%, while the UK FTSE 100 added 0.1%.

US sharemarkets were also mixed on Monday as investors anticipated details of potential COVID-19 relief stimulus. The Information Technology sector outperformed; Spotify surged 7.0% and Facebook jumped 2.1%, while Apple and NVIDIA lifted 1.2% and 0.4% respectively. However, Intel fell 3.4% following reports Apple is planning a new series of Mac processors in 2021. The Energy sector was the weakest performer, down 2.4%, following a fall in global oil prices. Chevron lost 2.7%, while ExxonMobil slipped 1.9%. The Dow Jones closed down 0.5% and the S&P 500 fell 0.2%, while the NASDAQ climbed 0.5% to close at a record high.
CNIS Perspective
The relationship between consumer confidence, consumer spending and GDP growth is a theory that we have highlighted many times in the past.

Last week's GDP number for the September quarter illustrates quite clearly this is more than just a theory, but a reality. As growing hopes of a vaccine hit the market and lockdowns eased in Australia, an almost knee jerk reaction to consumer confidence has seen a significant jump in the quarterly GDP number.

Corresponding to this is a fall in the household savings rate as consumers loosen the purse strings.

Should you wish to discuss this or any other investment related matter, please contact your Investment Services Team on (02) 4928 8500.
---
Disclaimer
The material contained in this publication is the nature of the general comment only, and neither purports, nor is intended to be advice on any particular matter. Persons should not act nor rely upon any information contained in or implied by this publication without seeking appropriate professional advice which relates specifically to his/her particular circumstances. Cutcher & Neale Investment Services Pty Limited expressly disclaim all and any liability to any person, whether a client of Cutcher & Neale Investment Services Pty Limited or not, who acts or fails to act as a consequence of reliance upon the whole or any part of this publication.
Cutcher & Neale Investment Services Pty Limited ABN 38 107 536 783 is a Corporate Authorised Representative of Cutcher & Neale Financial Services Pty Ltd ABN 22 160 682 879 AFSL 433814.