Morning Market Update - 22 July 2021
By Phillip Smith - July 22, 2021
Pre-Open Data

Key Data for the Week
Wednesday – AUS – Retail Sales fell 1.8% in June, following a 0.4% rise in May.
Thursday – AUS – NAB Business Confidence Index
Thursday – EUR – ECB Monetary Policy
Thursday – EUR – Consumer Confidence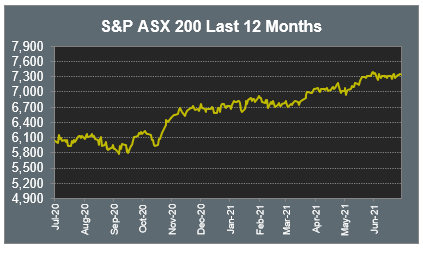 Australian Market
The Australian sharemarket rebounded yesterday to close up 0.8%. The Materials and Health Care sectors were the top performers, with both up 1.1%, followed by Financials and Consumer Discretionary.

The Industrials sector was the main laggard, down 0.7%. Airports were weaker; Auckland Airport and Sydney Airport closed down 0.9% and 0.8% respectively. Toll road operator Atlas Arteria gave up 1.3% after the company released toll revenue and statistics, which showed signs of improvement in May, helped by eased COVID-19 restrictions throughout Europe.

Mining heavyweights enjoyed strong gains; BHP added 1.3% and Rio Tinto lifted 1.2%, while Fortescue Metals closed up 0.5%. Mining company South32 gained 1.1% after it reported a lift in production in the March quarter for materials such as nickel, silver, zinc and aluminum. However, gold miners were weaker; Newcrest Mining fell 0.2%, while Evolution Mining lost 2.9%.

Consumer discretionary stocks improved despite ongoing COVID-19 lockdowns. Temple & Webster Group rose 0.5% and Super Retail Group added 2.1%, while Wesfarmers lifted 2.3%. However, Kogan.com shed 1.5% after the company announced its financial performance has been impacted by inventory management issues.

The Australian futures point to a 0.88% rise today, driven by stronger overseas markets overnight.

Overseas Markets
European sharemarkets advanced overnight, as the STOXX Europe 600 rallied 1.7%. Bank stocks rose in response to higher bond yields; Deutsche Bank added 4.3%, while Lloyds Bank and Barclays closed up 3.5% and 3.4% respectively. Renewable energy stocks also improved; Vestas Wind Systems climbed 4.5%, while Siemens Gamesa gained 4.0%.

US sharemarkets lifted on Wednesday. The Information Technology sector enjoyed gains; NVIDIA rallied 4.3% and Facebook lifted 1.3%, while Alphabet and Microsoft rose 1.1% and 0.8% respectively. By the close of trade, the NASDAQ closed up 0.9%, while the Dow Jones and S&P 500 both added 0.8%.
CNIS Perspective
The correlation between various forms of data is usually interesting from an economic perspective, and currently one is developing in Australia.

Over the past few weeks, the Australian Dollar has fallen almost 5% against the US Dollar. While foreign exchange markets are complex and difficult to predict with any great short-term certainty, there is currently an extraneous factor that has a correlation with a weaker Australian Dollar when compared to other countries - vaccination rates.

The relativities between international financial markets means a comparison is needed between vaccination rates present in the US, UK, Canada etc.

At present, Australia has only double-vaccinated about 11% of the population, well below the likes of the USA (48%), UK (54%) and Canada (50%).

With Australia's low vaccination rates stemming from low vaccine supply, with other countries prioritised ahead of Australia, at the current pace we won't achieve herd immunity until around 28 weeks from now, in the first quarter of next year.

Should you wish to discuss this or any other investment related matter, please contact your Investment Services Team on (02) 4928 8500.
---
Disclaimer
The material contained in this publication is the nature of the general comment only, and neither purports, nor is intended to be advice on any particular matter. Persons should not act nor rely upon any information contained in or implied by this publication without seeking appropriate professional advice which relates specifically to his/her particular circumstances. Cutcher & Neale Investment Services Pty Limited expressly disclaim all and any liability to any person, whether a client of Cutcher & Neale Investment Services Pty Limited or not, who acts or fails to act as a consequence of reliance upon the whole or any part of this publication.
Cutcher & Neale Investment Services Pty Limited ABN 38 107 536 783 is a Corporate Authorised Representative of Cutcher & Neale Financial Services Pty Ltd ABN 22 160 682 879 AFSL 433814.